hi there I love creating free content full of tips for my readers, you. I don't accept paid sponsorships, my opinion is my own, but if you find my recommendations helpful and you end up buying something you like through one of my links, I could earn a commission at no extra cost to you.
Learn more
The Guild Guitar Company is a United States-based guitar manufacturer founded in 1952 by Alfred Dronge, a guitarist and music-store owner, and George Mann, a former executive with the Epiphone Guitar Company. The brand name currently exists as a brand under Córdoba Music Group.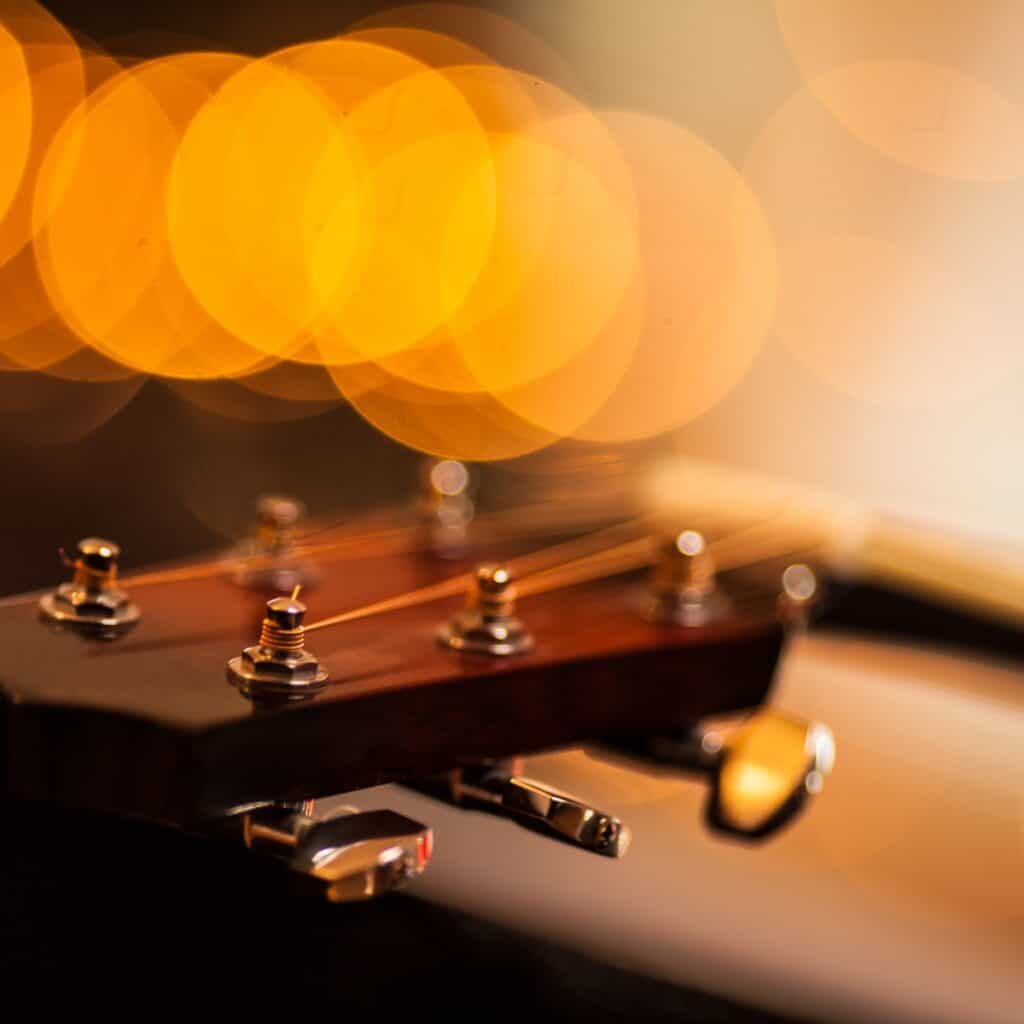 Introduction
Guild Guitars is a company that has been around since the early 1950s, crafting quality guitars that have been enjoyed by generations of guitarists. Their guitars have tens of thousands of models, which span a variety of styles and price points. In this article, we will give an overview of the history of Guild Guitars and some of their most popular models.
History of Guild Guitars

Guild is an iconic guitar brand, most associated with its famous line of hollow body electric instruments and signature models. Guild has a long, storied history as one of the oldest American stringed-instrument manufacturers, dating back to the early 1950s in New York City. The company began after several European luthiers decided to unite under the "Guild" name to better compete against larger competitors like Gibson, Fender and Martin. This collective of artisans eventually moved the business south to Newark, NJ., and began manufacturing guitars there until 1968.

By the late 1960s, Guild was an established presence in Chicago and was very successful in both sales and design. It also introduced several new models during this time period, including its iconic Starfire series with its distinctive shape that could be seen gracing stage shows for many popular bands at the time.

Beginning in 1969, however, Guild altered its focus: it introduced solid bodies based on traditional Fender models such as Stratocasters, Telecasters and Jazzmasters; this direction ultimately proved unsuccessful as sales decreased significantly by 1973 when Guild was sold to electronics conglomerate Avnet Inc. After moving production facilities twice more during this period – to Westerly Rhode Island first then Tacoma WA – production ceased completely in 2001 before being restarted by new owners Cordoba Guitars just two years later in 2003.. Since then Guild has produced many different iconic guitar models including their M-85 bass line and their ever-popular Jumbo acoustic line with its warm sound quality.
Overview of Guild Models

Guild Guitars has a long and storied history that spans over sixty years. The company, founded in 1952 by Avram "Abe" Ruby and George Mann, initially produced Spanish-style acoustic guitars in a variety of shapes and sizes. From the company's inception, Guild specialized in creating high quality instruments with excellent sound reproduction.

Throughout its history, Guild has released numerous iconic models of acoustic and electric guitars. These models are organized into various series that highlight various aspects of playability, construction methods, and aesthetics. Over the years Guild has released several popular series including Starfire®, T-Series®, S-Series®, X-Series®, Artisan® Series/, and Element® Series.

Each model within a particular series could feature different components based on the design aesthetic of the day. Electrics like the Starfire I & II boasted semi-hollow bodies for an extra layer of tonal warmth, while other Starfires featured typically solid bodies for bright cutting tones popularized by guitarists such as Jimi Hendrix. Solid body electrics such as those included within the X-Series feature harder woods like mahogany for fuller body resonance with increased sustain; other X-Model counterparts include softwoods like maple or alder to provide lighter attack with more focus on articulation clarity with less mid frequencies interfering with note definition at higher gain settings.

The Artisan series was designed to offer players updated versions of classic Guild guitar models from their past while also introducing new innovations such as dreadnought shape changes to maximize lower string definition or narrower neck widths that blend modeled acoustic characteristics between old and new easily transitionable feel when playing different styles throughout a setlist both live or in studio – yet still power chords crunch in stadiums or laid back fingerstyle grooves roll easily around campfires alike! Finally there is Element Series which provides an entry point into professional level tone packed into an affordable package due to mass production techniques used within modern manufacturing processes along at time honored traditional craftsmanship all geared for dynamically controlling sound shaping potential available today's best known production electric workhorses!
Acoustic Guitars
Guild's acoustic guitars are some of the most iconic instruments ever created. From the popular F-30 to the rare D-100, Guild's acoustic guitars span several decades of masterful craftsmanship. They have created a variety of models for varying musical genres and styles, and their instruments have been used by some of the world's best guitarists. In this section, we will look at the different models of Guild Acoustic guitars available and their history in the music industry.
F Series

The iconic F Series acoustic guitars were the first models produced by Guild Guitars. Launched in 1954 and inspired by the classic F-body dreadnought shape, this line of guitars featured a variety of musical styles. Along with the solid-body B-series factory models from that period, these guitars served as the foundation of Guild's brand image and set the tone for future product offerings.

Spawned from several earlier F-model prototypes, the F Series launched in three naturally crafted wooden body shapes — a traditional flat top dreadnought, a jumbo style, and a 12 string option. From there, variations quickly took shape; different colors added to existing shapes, rosewood sides with mahogany back — or even walnut or maple sides and backs to enhance specific characteristics of tone. The iconic spruce top was also sometimes replaced with sweet cedar planks for an even more mellow sound profile.

Specs on all F Series instruments included an incredibly comfortable neck that easily handled bar chords and generous width fret board perfect for intricate fingerpicking. Whether you opt for the Dreadnought body or prefer something more unique like the large bodied Artisan series – which is made up of some truly unique instruments — any Guild F Series guitar will make your presence known sonically!
M Series

The M-Series has been Guild's premier acoustic guitars since their debut in 1967. Previously available models of this series were the M-20, M-30, and other earlier models, the M-75, M-85, and Imperial. These classic Guilds are constructed with mahogany neck and sides, ¼ arched rosewood fingerboard with diamond pearl block inlays. The all solid woods used to make this iconic line, coupled with its incredible sound projection made it one of the most beloved instruments ever produced.

The M Series features some of Guild's best selling instruments over time; featuring a wide range of sizes for all types of players—from small-bodied parlor guitars to dreadnoughts. Some of the newer models from this line include: The A-50E 5/8 sized guitar with mahogany top and body and Fishman electronics; the D35 Bluegrass 2017 with Sitka spruce top and solid Indian rosewood back/sides; the F25 Standard folk shaped jumbo acoustic; or even more outfitted variants such as the D20 Grand Auditorium 12 String Marin Acoustic Electric or D45S Bluegrass 2017 which both come standard with a Fishman pickup system installed. As an artisan brand Guild provides players quality instruments at price points that suit all types of musicians!
D Series

The D Series is a range of acoustic guitars made by the Guild Guitar Company. The series is split into two distinct lineups: the D-20 (or Dreadnought) and the D-50 (or Jumbo). These two models have long been staples of the Guild catalog, with each offering impressive sound, quality craftsmanship, and superior playability.

The D-20 is a dreadnought style guitar with a popular combination of both warm and bright tones. It has a large body shape which produces powerful sounds when strummed or fingerpicked. The traditional body binding adds to the overall aesthetic appeal of this classic acoustic.

The D-50 is Guild's largest jumbo style instrument, boasting a loud voice and superior projection. Its distinctive shape offers ample room for different playing styles such as rhythm strumming or flatpicking solos. This model also comes with stylish appointments like multi-ply binding in abalone, rosewood trims and intricate herringbone purfling on its back paneling—all contributing to an eye-catching look that's ideal for performance or recording sessions alike.

Both the D-20 and D-50 models come with solid Sitka spruce tops for maximum strength—ensuring your instrument keeps looking good and sounds great year after year! With its exquisite craftsmanship, timeless design, quality materials, and excellent tone capabilities, it's no wonder why these guitars are so popular among discerning guitarists across many genres and styles of playing alike!
Electric Guitars
Guild has become an iconic guitar brand that has been producing high quality electric guitars since the mid-1950s. The company is known for their craftsmanship and their dedication to producing exceptional instruments. Over the years they have produced a wide range of electric guitars, from beginner models to professional instruments. In this section, we will explore some of the history and models of Guild electric guitars.
S Series


Guild's S Series electric guitars have been regarded as both iconic and unique since their introduction in the 1960s. Originally constructed using East Indian rosewood bodies, mahogany necks and modern floating pickguards, this series was offered with several variations over the years.

Guild created a variety of models over the years that could be customized to fit an individual player's personal needs and preferences. Fortunately, all S Series guitars shared certain common characteristics: a vibrato bridge with a Schaller roller bar and a distinctive three-knob control plate layout. Subsequent variations included changes to the pickup configuration, body top material (maple or spruce), neck material (rosewood or maple), headstock shape and more.

Guitarists who prefer Strats will find plenty to love about Guild S Series guitars. Notable models in this series include: S-60, S-70, S-100 Polara, S-200 T-Bird, SB-1 and SB-4 basses. These are some of the most sought after vintage Guilds made in the U.S., displaying both classic style and excellent sound quality from its 3 single coils pickups configuration and other features like an Ebony fingerboard or solid flamed maple tops on some models.
X Series

The X Series from Guild is a classic, vintage collection of electric guitars designed for the modern musician, embodying the classic style and sound of their original acoustic and electric instruments. The X Series brings to life the unmistakable look of Guild's iconic models from its history. Guitars within this series are built with traditional electronics, pick-ups, body shapes and appointments that give each model its own unique tone.

Particular attention is paid to the classic design and construction which gives each one a timeless feel. With its construction materials like mahogany or maple necks and bodies, Rosewood or Ebony fingerboards, pickups using either humbuckers or single coils and finishes like natural satin or gloss polyurethane, there is something for everyone within this series. Looking to add some extra sparkle? Check out their shimmering sparkle finish options available on certain models!

Popular models in this series include the Starfire V Semi-Hollow Body Electric Guitar which features a double-cutaway semi-hollow body with classic design elements like F holes and bound top & back body construction giving it that classic vibe; as well as the S-250 T Bird Electric Bass which has an impressive short scale length of only 28" making it incredibly comfortable to play – plus great sounding 2 humbucker pickups whose tone match perfectly with accompanying acoustic guitars or drums.

It doesn't matter if you're new to playing field on guitar or you're an experienced guitarist looking for a timeless design – Guild's X Series has it all! Start playing your favorite styles today with precision craftsmanship made possible by legacy instrument makers at Guild guitars.
T Series

The T Series of guitars from Guild are some of the most iconic electric guitars in history. The T Series was launched in 1972 with the introduction of both the M-75 Aristocrat and the S-100 Polara models. Since then, the T Series has become one of Guild's most popular guitar lines, featuring a variety of classic Humbucker and hollow body styles.

The T Series is defined by its iconic single cutaway design that combines a thinline semi-hollow body with double humbucker pickups in an ergonomic package. This distinctive combination produces a resonance that can only be described as unique and unmistakably Guild. It is known for its distinctively bright tone with articulating treble and beefy bass response while still having enough midrange presence to create warm, rich tones when needed.

In addition to two core models, the Aristocrat and the Polara, Guild also produced a range of variations on these themes over the years. Some of these include:
-M-75 Bluesbird – Semi hollowbody/double humbucker combination
-S-500 Thunderbird – Solid body/dual P90s
-X500 Voodoo – Bowed top semi hollow body/dual Humbuckers
-T50DCE Deluxe – Solid body/dual humbuckers with electro acoustic pickup system
-Sonic Unicorn – Semi hollowbody style/single coil pickup configuration
Bass Guitars
Guild bass guitars have been a mainstay in the bass guitar world since their inception in the 1950s. Guild has been producing high-quality basses for decades, and they have earned a dedicated following due to their sound and craftsmanship. Whether you're looking for a punchy 6-string, a classic 4-string, or a modern 8-string, Guild has you covered with a wide range of models. Let's look closer at Guild bass guitars and why they are so beloved by bassists.
B Series

The B series is perhaps Guild's most famous range of bass guitars. Debuting in 1969 with the B-20, the B series evolved over four decades to become an iconic range of basses inspired by the world around us. From vintage-influenced designs and classic wood combinations to cutting edge instrument building techniques, each member of the B Series family has their own unique style and sound.

The B-20 was Guild's first electric bass guitar and marked a turn for the company as it was previously known for its acoustic guitar designs. Released as both a fretted and fretless model, the B-20 was made of mahogany and featured two single coil pickups paired with a single volume control knob and tone switch selects one pickup or both. This simplistic design set the blueprint for many of the subsequent B-Series models that followed such as:

· The B30 Deluxe— introduced in 1971 and constructed out of Honduran Mahogany with newly designed pickups created especially for this bass guitar;
· The BB156— launching in 1979 after a development process that included testing by professional players, this model features an ornate neck shape combined with two Bartolini Humbuckers;
· The BB404— released in 2008, this modern take on an old classic uses high quality electronic components but retains all the defining traits of historic Guild Bass guitars including an extra deep cutaway;
· The BB609— Part of Guild's revamped 2017 core lineup, this model incorporates timeless design elements from antique instruments paired with modern electronics giving bassists unprecedented control;
· The BB605—dubbed "the skyscraper" this is one of Guild's more experimental offerings boasting an eye catching body shape packed with versatile electronics, meaning players won't be disappointed whatever their playing style.
G Series

The G series is Guild's long-running line of bass guitars. This iconic range of instruments was originally released in the 1970s and has been in production ever since. Over the last four decades, it has evolved with the times, maintaining its classic flair while incorporating modern manufacturing techniques.

The G series is characterized by its traditional double cutaway shape and bolt-on construction. Its comfortable neck profile is designed for easy playability, particularly when it comes to chordal passages and faster soloing styles. The main electronics options available for these basses include either a single or dual humbucker configuration – both of which offer a thick sound with plenty of low-end punch. Depending on the year and model, one may also find a rock-solid Wilkinson bridge on some iterations of the G series.

Guild continue to produce several models in their G series range, including their signature double cutaway Artist Award basses, as well as many traditionally-styled models like the Starfire Bass, SB-302 Bass, Brierwood JB-2 Bass and ESB-3 Baritone Bass Guitar. They also have some more leftfield offerings such as the limited edition Steve Harris Pinstripe 2T Electric Bass – known for its fiery midrange tone and two Seymour Duncan pickups for extra power! All in all, there's something for everyone in Guild's vast selection of G series basses – making it one of the most comprehensive ranges of instruments from any renowned guitar brand worldwide!
S Series

The S Series is an iconic series of bass guitars made by celebrated guitar brand Guild. Introduced in the late '80s, these vintage-looking instruments were uniquely designed to be adjustable without tools. These 4-stringed, solid body basses have a distinctively '90s vibe and are available in a range of styles, from 5 and 6 string models to fretless models that add a new level of versatility and creativity.

The most recognizable instrument of the S Series lineup is the Guild S100 Polara. This bass has an instantly recognizable reverse headstock and is known for its unique design philosophies such as reversed single-coils pickups placed at a 45 degree angle and removable heel plates that allow access to truss rods so adjustments can be made on the fly – all without any tools! Other signature hardware touches include chrome hardware, Schaller bridge, and a roller bridge.

For those who seek even more unique tone options, various 5-string active variants are available, such as the first production active humbucking model enabled with a preamp system encased inside of the body. The 5 string version was often seen as both aesthetically stunning and technically savvy for professional musicians wishing for more range or other tonal response enhancements.

The S Series also released two versions of fretted fretless models: Warr Guitars banded fretless models included active EQ with dual P/P stacked humbuckers or passive versions (SBB1) either passive pickups (p90 style) or passive/active controls in both PB2 & SB2 editions make up this category which brings yet another realm exploration in tones when gigging or recording professionals bassists playing modern rock music.

This wide range of available instruments has cemented Guild's stature as one of the most respected guitar makers around – each instrument can be relied on to deliver warm melodies with crisp clarity every time you plug it in.
Conclusion
Guild guitars have been a favorite amongst guitar players for decades, and for good reason. Of all the different types of guitar models Guild has produced over the years, there are two core outputs that have defined the brand: electric and acoustic. The models have evolved over time, but the fundamental designs have remained relatively the same. In conclusion, Guild guitars are well-made, comfortable and they sound great, making them a reliable and iconic choice for guitar players.
Summary of Guild Guitar Models

Guild guitars have been produced across five decades and remain popular with professional musicians today. From three-quarter size guitars to the full-scale models, Guild guitars offer a variety of body sizes, tonal characteristics and finishes. With their distinguishable sound, playability and craftsmanship, Guilds are one of the most iconic brands in guitar history.

Early Guild "hollowbody" electric models provided unique tonal qualities featuring the classic semi-hollow body construction with separate "wings" on either side of the body containing hollow cavities while solid wood glued to the center block maintained strength under tension. Some of the most popular electric guitar lines from Guild include M-75 Aristocrats, X Series' Bluesbird and Starfire Series', as well as S Series' acoustic line which introduced a smaller concert body shape allowing for portability.

Another iconic Guild model is the D-55 acoustic sold in two versions; Brazilian rosewood version released in 1969 and a rosewood/spruce version in 1973 utilizing a scalloped bracing system for added volume control. By 1975, the S-100 "Polaris" was released along with its slightly upgraded successor model S-200 which featured an innovative twin cutaway design that was ahead of its time. Duane Eddy Rockabilly hit records used this iconic model as did rock bands such as America and Canned Heat before its production was discontinued after 1978 due to changing industry conditions during at time when "superstrat" style models were becoming more popular.

Today's reissues offer vintage styling along with modern reliability while their full line range of finger styles nylon string acoustics appeals to players looking for sonic warmth and articulation unheard in traditional classical guitar designs making them one of most recognized names across six decades of manufacturing world class instruments.
How to choose the right Guild Guitar for you

Choosing the right Guild guitar for you can be a difficult decision. Ultimately, it depends on your style of playing and desired sound. Here are some tips to help you make the best decision for you:

– Consider your skill level: Every aspiring guitarist should start with a simple and classic model that suits their needs and skill level. If you are an advanced player, it's best to invest in a more high-end model with better quality construction, tone woods, electronics and other features such as tremolo systems or pick-ups.

– Compare scale length: Different models of Guild guitars may have different scale lengths—which refers to the distance between the nut and the bridge. For example, Fender Telecasters have a 25.5" scale length while Gibson Les Pauls have a 24.75" scale length—which affects tone and playability. Be sure to compare the scale lengths of different models so that you can choose one most suitable for your playing style.

– Consider tonewoods: Tonewoods play an important role in determining the overall sound of a guitar; they affect resonance, sustain, attack and clarity among many other things. Consider different tonewoods used for various pieces of the guitar body such as rosewood or mahogany for necks instead of maple which is more common on electric guitars these days. Similarly consider top selections like spruce or cedar instead of standard ash or agathis which is common on budget guitars today

– Look into available series/models: There are many different series offered by Guild including acoustic/electric hybrids (such as Aviator Series), nylon string models (such as Tribal Series), jazz boxes (such as M-120) as well as limited edition collections featuring unique finished bodies at affordable prices (such as X175C CE Historic Collection). Make sure that whatever guitar you choose fits your style best!
I'm Joost Nusselder, the founder of Neaera and a content marketer, dad, and love trying out new equipment with guitar at the heart of my passion, and together with my team, I've been creating in-depth blog articles since 2020 to help loyal readers with recording and guitar tips.
Check me out on Youtube where I try out all of this gear: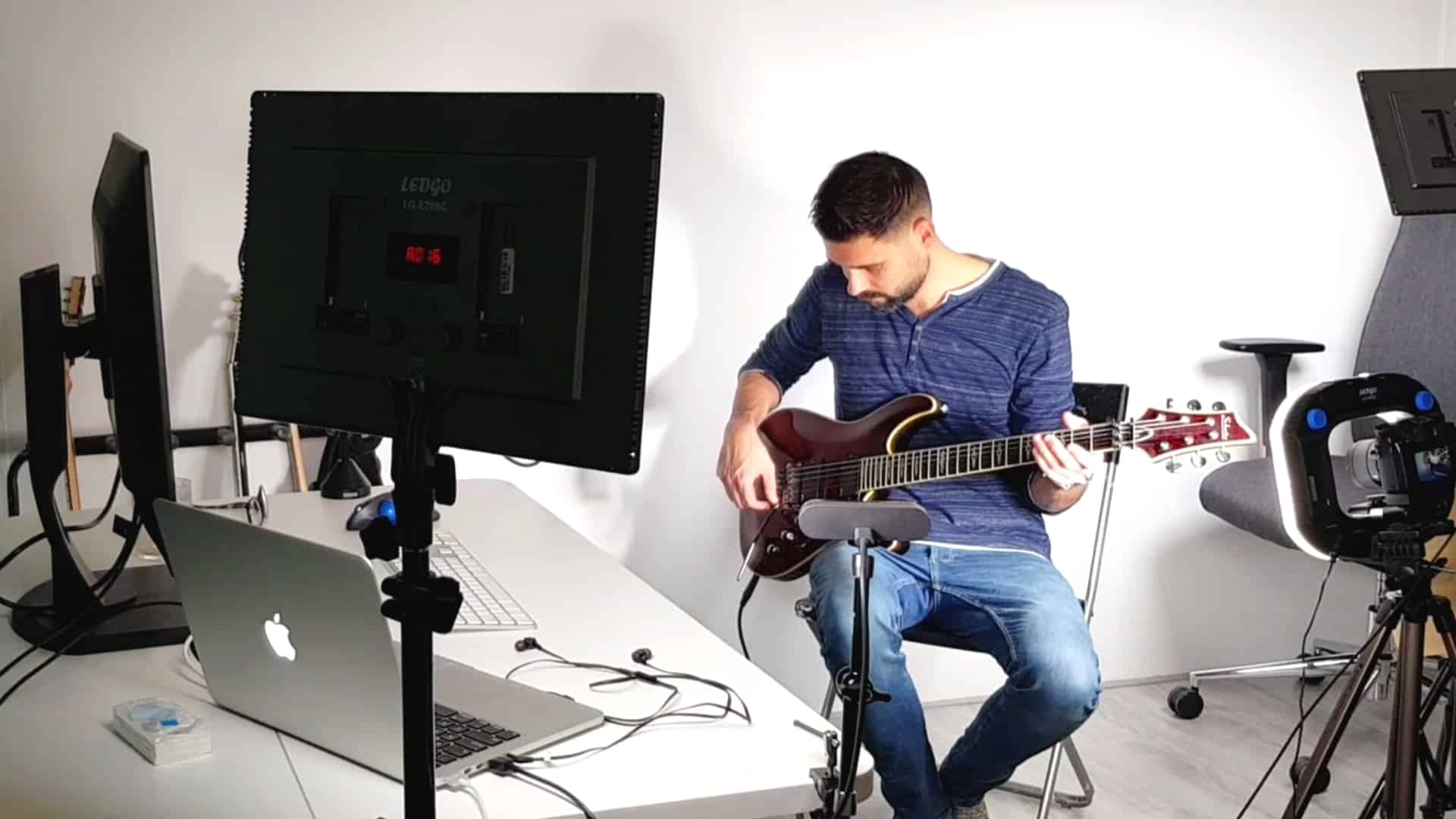 Subscribe