hi there I love creating free content full of tips for my readers, you. I don't accept paid sponsorships, my opinion is my own, but if you find my recommendations helpful and you end up buying something you like through one of my links, I could earn a commission at no extra cost to you.
Learn more
Grover Jackson is an American luthier and a legend in the guitar world. He's best known for his work with Randy Rhoads and the creation of the iconic Jackson guitars.
These days, Grover Jackson is still making waves in the guitar community with his new line of Jackson guitars.
If you're a fan of the guitar, then you definitely know who he is. However, for those who don't know, Grover Jackson is a highly respected luthier and guitar designer.
He's responsible for some of the most iconic guitars in the world, including the Randy Rhoads signature model and the Jackson Soloist.
He got his start in the music industry working at a guitar shop in California. It was there that he met Randy Rhoads, who would soon become his most famous collaborator. Jackson began building guitars for Rhoads, and the two quickly developed a close working relationship.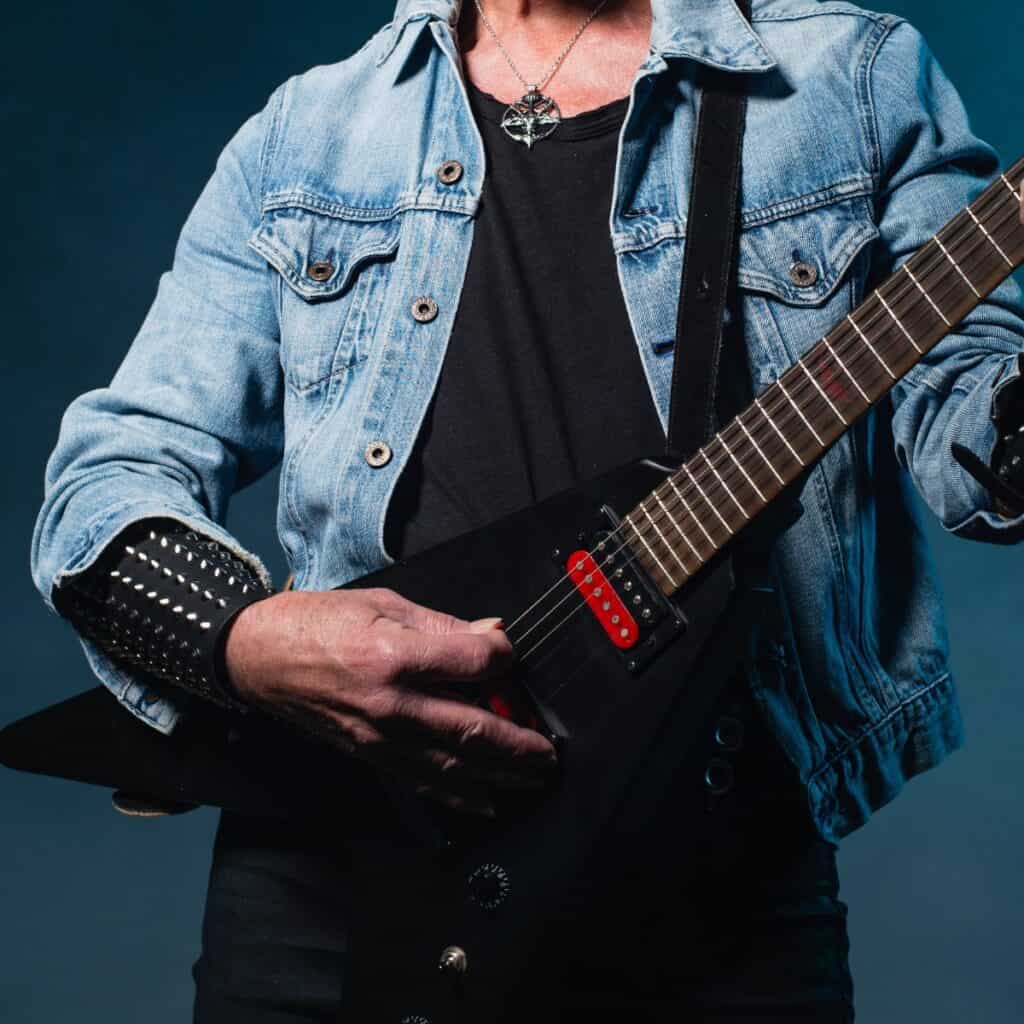 Introduction
Grover Jackson is a renowned American luthier, guitar designer and manufacturer. He has worked with several well-known artists, including Randy Rhoads, Zakk Wylde, Tre Cool from Green Day and the members of Guns N' Roses. GJ sold one of the very first production models of the iconic Gibson Flying V and came out with his own models like the San Dimas Charvel guitars.
His time at Charvel was transformative for both Charvel and Jackson guitars.
With a career that has spanned over five decades, Grover Jackson has been dubbed "The Father of Modern Metal Guitar Design" because of his impact not only on shaping sound and playability but also on defining what it is to rock out with a guitar. As 'The Father of Modern Metal Guitar Design' he changed the face of both studio recording as well as hard-rocking live performances by innovative designs that remain influential to this day. He took classic designs from Fender and Gibson and added an edge to them, making them more suited for heavier rock music in terms of sound, look and feel.
Early Life
Guitarist and luthier Grover Jackson was born in 1948 in Akron, Ohio. He grew up playing music with his father and studied classical guitar. As a teen, he began building instruments and while in college, he learned how to customize guitars to suit his musical tastes. His passion for instrument building eventually led to him becoming a legendary luthier and expert guitar craftsman.
Let's explore Grover Jackson's life and career to understand his impact on music better:
Education
Grover Jackson was born in 1959 in San Bernardino, California. He attended Rincon High School where he focused on music, learning to play the saxophone during his teenage years. After high school, he enrolled at the Musicians Institute in Hollywood, California to further his education in music theory and guitar theory.
At Musicians Institute, Grover studied under a variety of teachers including Joe Pass and super-shredder Allan Holdsworth whose influence was central to Grover's playing style. Later he studied jazz improvisation with Hiroshi Komiyama and classical composition at Innervision Productions before ultimately graduating with a degree in Music Composition and Technology. From there Grover moved back to San Bernardino where he gigged around town and began developing his own craft as a custom instrument builder.
Early Career
Grover Jackson's career would eventually catapult him to the pinnacle of success, but it all started when he was just 15 years old. Living in Los Angeles, Grover took a job as a machinist in a local guitar parts factory to help his family make ends meet. It seemed like fate had something more planned for Grover, however, as it was at this factory that he was first exposed to legendary guitarists playing their craft.
This initial exposure triggered an intense enthusiasm for guitars that led Grover to eventually become the "go-to guy" for many of L.A.'s most well-known musicians including B.B King, Billy Foggarty and others. Through hard work and determination Grover soon became a talented guitar technician—gaining invaluable insight on the inner workings of guitars which would come to be essential throughout his extraordinary career.
With recognition came more invitations from famous superstars and within three years, he became head machinist and began designing prototypes in collaboration with renowned builders such as Dan Smith of Fender Musical Instruments Corporation (FMIC). The two were responsible for iconic acoustic models such as the Limited Edition FMIC Artist Series ES-335 alongside giants like Doug Petty and Charley Maynad of Rickenbacker International Corporation (RIC). In later years these collaboratively constructed models would define the sonic landscape for generations after them.
Career in Music
Grover Jackson is one of the most influential figures in the history of music. He is best known for his work producing some of the most iconic rock albums of the 80s and 90s. His career in music began as a guitar technician for Randy Rhoads, and eventually he founded Charvel Guitars and Jackson Instruments which are now world-renowned brands.
Let's take a look at his illustrious career in music.
Guitar Design
Guitar design was an activity at which Grover Jackson excels. He helped to create the iconic "pointy" shape of Charvel guitars and the radical body shape of Jackson guitars. His innovations provide players with the ultimate playable experience, and his designs are highly sought after for their unique blend of tone and playability.
Jackson also collaborated with Reita Ray, a custom luthier from Japan, to create signature models that bore Jackson's name. His designs were revolutionary in terms of hardware, electronics layout, paint finishes and much more. He even modified low-end guitars for high-end sound quality in a cost-effective manner – one example being the now cult classic Jackson Soloist series from 1985.
Grover also had a hand in designing the influential Dean ML series electric guitar which is considered by many to be one of the most important instruments ever released. He developed a new neck joint system which was immediately lauded for its superior strength and stability before being adopted by other brands such as Ibanez and ESP.
While Grover may not have been directly involved in shaping musical trends through performance or songwriting, his influence on instrument design cannot be underestimated as modern music owes him a great debt for his revolutionary guitar designs!
Music Production
Grover Jackson is a music producer and engineer with a career in the music industry that spans over twenty years. Early in his career, Jackson worked with many acclaimed recording artists such as Faith No More, U2, and Def Leppard. His influence in the world of production goes far beyond those bands, however; he has had a major hand in shaping the sound of many genres of modern music.
Jackson's production mantra centers around using tonal dynamics to create an impressive sound for each song he works on. This often involves operating on both large and small scales at once. For instance, he might record and mix numerous instruments at one time while tweaking individual sounds to make sure they fit perfectly. This attention to detail gives his productions a unique flavor that is immediately recognizable.
As well as being an experienced producer, Grover Jackson is also an incredibly talented engineer whose expertise lies in programming and editing software used by most professional recording studios today. He understands how important it can be to make adjustments quickly during the recording session and knows how best to ensure smooth operation when it comes to transitions between takes or different tracks. His knowledge of technology allows him to create high-quality results even under extreme time pressures or restrictive studio conditions – demonstrating his incredible skillset as both a producer and an engineer simultaneously.
Impact on Music
Grover Jackson is a name that often crops up in conversation among guitar enthusiasts. He is most renowned for his work with Randy Rhoads, producing some of the greatest guitar sounds of all time. He has also made a significant impact on the music industry in his own right.
This section will explore how Grover Jackson has impacted the music industry:
Popularity of Jackson Guitars
Since the 1960s, Grover Jackson has been an influential figure in the development and growth of popular music and is most renowned for his involvement in creating some of the world's most iconic guitars. After becoming a master craftsman of guitar making, Grover co-founded Jackson Guitars in 1980 with Randy Rhoads. The more-than-decade long partnership with Rhoads and Jackson would go down in history, leading to the wildly popular shape of many of today's electric guitars.
Alongside seeing success from custom instruments created by Randy Rhoads, Grover helped create several lines of metal guitars that could be mass-produced. These included record shattering models such as Soloist and King V shapes as well as popular KV and Reflection instruments which are now iconic designs found everywhere on stages and in jam rooms alike. At its core, these models featured just two options; neck through body construction or the bolt on neck design available for more affordable options due to its quick production timescale.
The popularity brought upon by these models skyrocketed during the 1980s metal era with acts such as Van Halen playing them amongst other icons like Slayer, Megadeth, Dream Theater and others worldwide. Still today, multiple generations appreciate all that Grover has done throughout to influence heavy metal tonality as well as over all excellence in craftsmanship; creating some of the most lightweight but sonically versatile quality instruments for guitar players worldwide.
Contributions to Heavy Metal Music
Grover Jackson is often credited as the founder of heavy metal guitar technology. He created and tested it while working on guitars for Randy Rhoads and other guitarists. His innovations in tonal range, wiring, cavity shapes, refinements to tremolo systems, and hardware combinations have become staples in metal music today.
His influence can be heard on virtually every kind of metal music originating from the 80s onward. Grover Jackson's work pioneered an era of highly aggressive sound layering and unique tonal variations for the genre that had previously been neglected or brushed aside. He helped create the tools necessary to express those tones in a guitar-centric way, such as improved pickup articulation and furious overdrive options.
The two most significant models released by Grover Jackson are the hugely popular Super Strat style "Randy Rhoads RR1" with a shark fin wing pickguard and Jackson's more conventional pseudo-Les Paul design also played by Randy Rhoads – both adorned with 24 fret necks and locking tremolos (but before being taken over by Charvel). The spirit of his legacy lives on in every shredding song written since then, where spin kicks off incredible picking speed across crunching power chords, driven by sawing leads born from hot pickups permeated with raw energy.
Legacy
Grover Jackson is a legendary figure in the world of music. He is best known for his pioneering work in heavy metal guitar design. He worked with some of the most iconic bands in the genre, helping to create the signature sounds that are now staples of the genre. His contributions have had an immense impact on the world of music and he is remembered fondly by those that knew him.
Let's explore his incredible legacy and how his work changed the music industry:
Legacy of Jackson Guitars
The name Grover Jackson is held in awe in the world of music. Musicians, collectors, and even those who are outside the sphere of guitar culture have come to recognize the man's impact on the world of guitars. Jackson has long been admired for his skill in creating vibrant, quality instruments—especially those bearing his own name: Jackson guitars.
From its humbly beginnings as an extension to Charvel guitars and part of Bandit Guitars, Grover's Jackson guitar brand quickly gained prominence, with many notable musicians such as Randy Rhoads and Adrian Smith choosing to use it as their main instrument.
Jackson has become a legendary name that stands for superior playability and construction that has become adjustable for whatever style a musician needs. Since their early formation by Grover himself, Jackson guitars have gone through various design changes being nicked named "baroque" or "gallery" – using artistic inspiration on each model. Many players who have chosen Jackson as their main axe now have signature model series with Grover. Jeff Loomis continues to set a precedent with his series while Rusty Cooley brings unrivaled shredding power within each piece. Each design serves as a statement to the sheer extent of musicality possessed within each one while they remain entirely customizable to match any player's preference and sound.
Clearly the legacy left behind by groover jackson through his life time labor won't be forgotten anytime soon for what he did for music with creating his own line of guitars that were not just visually attractive but musically enjoyable too! The passion and devotion he showed towards guitar playing was something few musicians can match and even fewer inherit from another founder like him. To this day Jackson is still leading with innovation in creating amazing instruments that suit all different levels of experience from beginner to veteran alike!
Influence on Modern Music
Since the early 1970s, Grover Jackson has been an influential figure in the guitar manufacturing community, creating high-quality instruments and inspiring generations of players. His influence can be felt in the modern music scene with his two biggest companies – Jackson Charvel and B.C Rich – providing modern musicians with distinctive guitars that stand apart from other instruments of their type.
Jackson first rose to fame in the late 70s when his guitars began to get noticed by legendary guitarists such as Eddie Van Halen, Randy Rhoads, Dave Mustaine and George Lynch – all of whom helped shape heavy metal music into what it is today. The distinguished appearance of Jackson's guitars also made a mark on visual aesthetic which was essential to hard rock bands' public image – band logos often being painted onto the instruments.
Jackson's master craftsmanship meant that musicians were not only able to create unique sounds with custom-built pickups but also easily modify their own jackson instruments without breaking them. This encouraged experimentation and created a DIY mentality among many up-and-coming players who sought out Jackson for his signature sound when playing lead solos or defining crunchy rhythm lines on both electric and acoustic guitars alike.
The influence of Grover Jackson is still evident today, resonating through modern artist such as Avenged Sevenfold, Slipknot and Metallica all whose members use some of grovers distinct models like the soloist or warrior series to help reach impressive levels of technical skill while remaining creative in their artistry within metal genres such as groove thrash alternative or progressive core – owe much thanks to legacy left behind by this great craftsmen!
I'm Joost Nusselder, the founder of Neaera and a content marketer, dad, and love trying out new equipment with guitar at the heart of my passion, and together with my team, I've been creating in-depth blog articles since 2020 to help loyal readers with recording and guitar tips.
Check me out on Youtube where I try out all of this gear: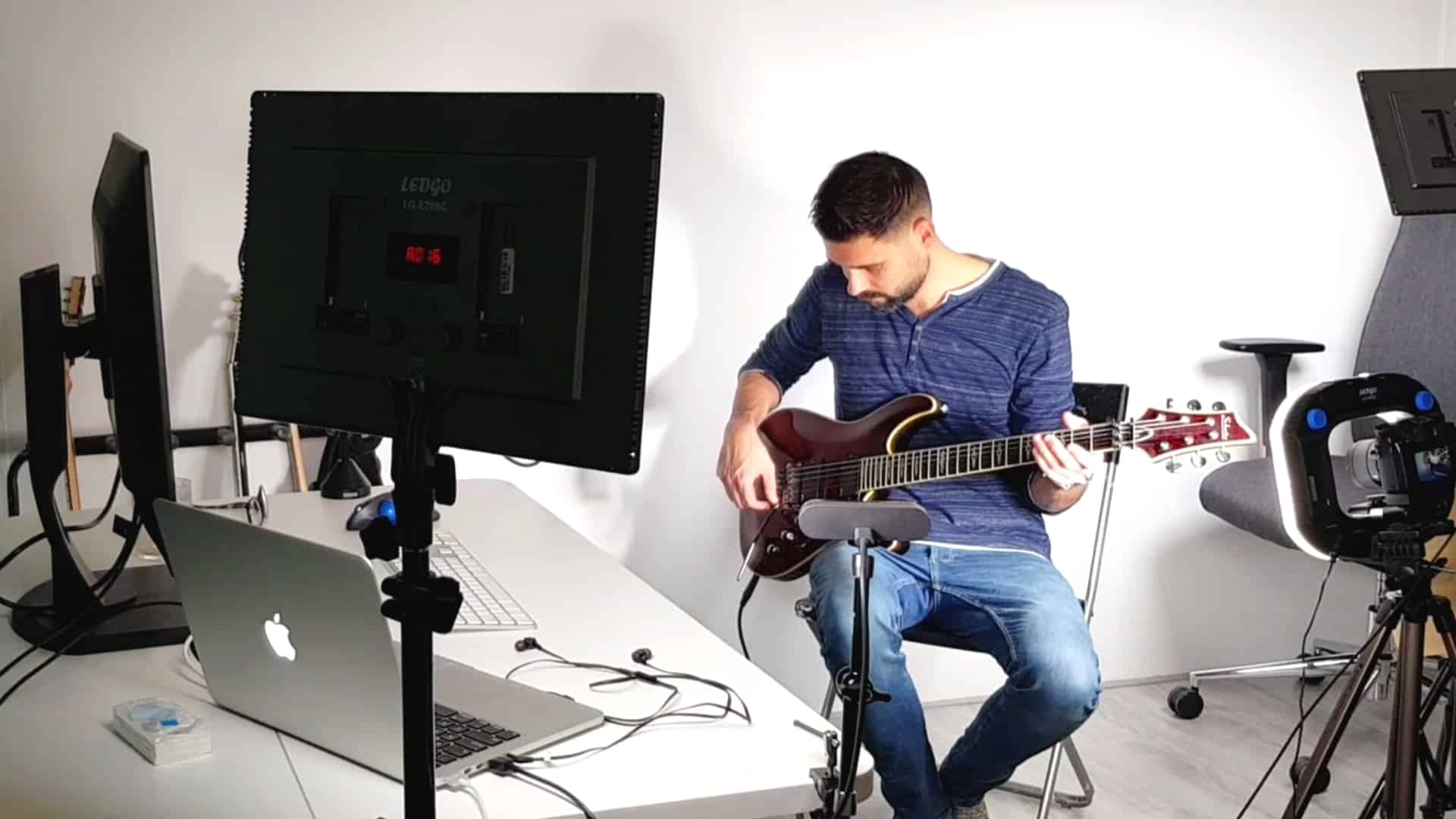 Subscribe