hi there I love creating free content full of tips for my readers, you. I don't accept paid sponsorships, my opinion is my own, but if you find my recommendations helpful and you end up buying something you like through one of my links, I could earn a commission at no extra cost to you.
Learn more
Dave Mustaine is one of the most influential musicians in the world, having created some of the most iconic riffs and songs in the history of metal music. Not only is he one of the founding members of thrash metal giants Megadeth, but he has also been involved in the formation of various projects and side-projects.
In this article, we'll discuss Dave Mustaine's life, career and influence on the music industry.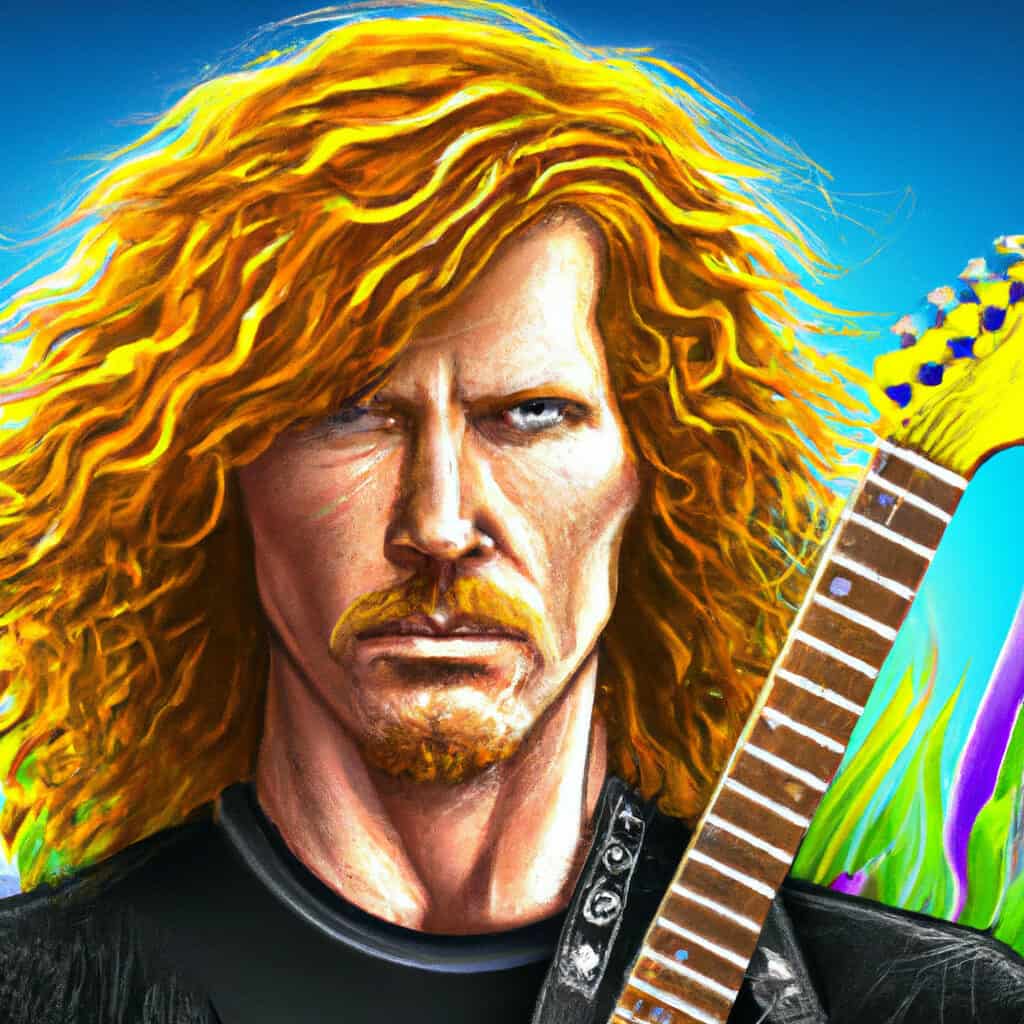 Overview of Dave Mustaine
Dave Mustaine is a legendary musician, songwriter, and singer best known for his work in the thrash metal band Megadeth. Starting out as a founding member of Metallica in 1981, Mustaine wrote songs such as "Hit the Lights" and "Jump in the Fire" for the group's debut album Kill 'Em All.
When he left Metallica in 1983, he formed Megadeth which went on to become one of the most important thrash metal bands of all time. Mustaine's genius songwriting ability was on full display throughout Megadeth's tenure which lasted from 1983 until its disbandment in 2002. His work achieved commercial success while still remaining true to his roots and managing to carve out a unique sound that no other band has since been able to replicate.
Moreover, Mustaine merged aspects of classical music into some of his more progressive compositions which made Megadeth more versatile than most other heavy metal bands. The mark that Dave Mustaine left on music is indelible and will forever influence future generations of musicians and fans alike.
Early Life
Dave Mustaine is one of the most iconic figures in the music world. He rose to fame as the co-founder and lead guitarist of the thrash metal band Metallica and later created the band Megadeth. He has been credited for pioneering the thrash metal and speed metal genres of music.
Before Dave Mustaine became a famous musician, he had an interesting early life.
Growing Up in California
David Scott Mustaine, best known under the stage name "Dave Mustaine", was born on September 13, 1961 in a small town of La Mesa, California. Raised in a Christian family, Dave led a peaceful childhood surrounded by his parents Emily and John Mustaine and two sisters.
Dave received both his early education and music training from the same school; Mission Bay High School. It was in the school bands that his love for music was sparked, tumbling into a lifelong devotion to rock and heavy metal. Dave's supportive family also encouraged his interest in music resulting in him quickly becoming proficient with instruments such as guitar. Transforming to become an aspiring artist and talented musician, Dave drew inspiration from artists such as Judas Priest and KISS; whom he would later perform alongside with iconic band Metallica.
Early Musical Influences
Dave Mustaine grew up in La Mesa, a suburb of San Diego, California. His mother, Emily Mustaine, was a bookkeeper and singer while his father was an officer with the police force. After his parents divorced when he was eight years old, he went to live with his father in a very strict environment where music was frowned upon.
Despite this, Dave found solace in music. He began playing the drums at an early age and eventually moved on to playing the electric guitar after receiving lessons from a local musician in his hometown. His early musical influences included Led Zeppelin, Black Sabbath and Pink Floyd among others.
The influence of those artists can be heard in several of the recordings from Mustaine's first band Metallica's repertoire which he formed back when he was still a teenager. At around 21 years old, Mustaine joined forces with bass player David Ellefson to found Megadeth – another highly successful metal band that has had lasting influence on the genre and solidified Mustaine as one of metal's top guitarists and frontmen over the past 30-plus years.
Professional Career
Dave Mustaine is best known as the co-founder, lead guitarist, and vocalist of the well-known American heavy metal band Megadeth. Mustaine is hugely influential in the heavy metal music scene, as evidenced by his numerous awards and recognitions. Here, we will look at Mustaine's professional career and some of his major accomplishments over the course of his music career.
Joining Metallica
In 1981, Dave Mustaine joined Metallica as the lead guitarist, replacing Lars Ulrich's former guitar player. As a member of Metallica, he not only helped sell out shows and receive much airplay from radio stations with songs such as "Hit the Lights" and "Jump in the Fire," but he also wrote four of their first five songs. With Metallica, he played guitar on their Kill 'Em All album and appeared on their The $5.98 E.P.: Garage Days Re-Revisited album and was eventually part of one of America's premier metal groups to have emerged during the 1980s.
Mustaine left Metallica in 1983 due to personal differences between him and bandmates James Hetfield, Lars Ulrich and bassist Cliff Burton. Despite his departure from the band, his mark on Metallica's early music had been made; in many ways setting much of the tone for thrash metal as we know it today. After departing from Metallica, Mustaine went on to form Megadeth with bassist David Ellefson in 1984; Megadeth has since become one of heavy metal's most influential groups – releasing gold certified albums such as Peace Sells… But Who's Buying? (1986) and Countdown To Extinction (1992).
Founding Megadeth
In 1983, Dave Mustaine founded the pioneering thrash metal band Megadeth in Southern California. Regarded as one of the "big four" of thrash metal, alongside Slayer, Metallica and Anthrax, Megadeth have gone on to become a cultural phenomenon.
From its inception, Megadeth has been a vehicle for Mustaine's artistry and songwriting. The group successfully melded disparate musical styles into something completely unique and completely Mustaine; rather than recycling heavy metal riffs, hook-laden choruses or atonal improvisation, he developed musically intricate arrangements that were simultaneously aggressive and accessible. What set Mustaine — and his band — apart from others was his ability to approach genres from fresh perspectives while ultimately staying true to the tenets of his craft: heavy rocking guitars driven by innovative rhythms.
Mustaine wrote or co-wrote the majority of Megadeth's music throughout their multi-platinum run, with such iconic albums as Rust in Peace (1990) continuing to prove an influential benchmark for subsequent generations of metalheads. His managerial skills opened up new market avenues for Megadeth; working on foreign tours increased the group's profile to international levels while his business acumen helped land endorsement deals which previously would have seemed impossible. With continued success came stability — something which had eluded many of their contemporaries — allowing Mustaine the freedom to explore other musical opportunities like those found in country music with Vic Rattlehead in 1984 or Blind Boy Grunt with John Eagle in 1985.
Musical Contributions
Dave Mustaine is an iconic musician and frontman of the legendary heavy metal group Megadeth. Throughout his career in music, Mustaine has made incredible contributions to rock and metal music. His songwriting style is original and captivating, and he has helped to form the sound of various subgenres of heavy metal.
In this article, we'll explore Dave Mustaine's musical contributions and their impact on the music industry.
Pioneering Thrash Metal
As the lead guitarist, primary songwriter and co-founder of the legendary thrash metal band Megadeth, Dave Mustaine has been a major influence on the evolution of hard rock and heavy metal. With over 25 studio albums released since 1983, Megadeth's instrumental proficiency combined with Mustaine's aggressive vocals set a benchmark for what would become a worldwide phenomenon.
Mustaine is known for pioneering an intricate style of guitar playing that relied heavily on lightning fast sweeps and hammer-on's and pull-off's – moves that are now commonplace among modern thrash guitarists. His ambition to constantly push the envelope resulted in Megadeth becoming one of the forerunners of the genre who would come to define thrash metal for many generations to follow. Many young musicians who found inspiration in his style and attitude went on to form their own bands like Slayer, Metallica, Exodus, Anthrax and Overkill.
In addition to his work with Megadeth, Mustaine has earned multiple awards such as nominations for Grammy Awards in Best Metal Performance (1990), Best Hard Rock Performance (2004), Best Metal Performance (2010). He also played an important role in other bands such as Metallica before being fired in 1983. Combining powerful riffs with effective lyrics, Mustaine wrote many influential songs like "Holy Wars…The Punishment Due" which was acknowledged by Rolling Stone writer Vaughan Smith as one of 'the most enduring pieces from his lengthy career'.
Writing and Producing Music
Writing and producing music has been a major part of Dave Mustaine's life. Taught early on by his mother, Dixie Lee Mustaine, who was a folk artist as well as a piano instructor, Mustaine learned the basics of writing and arranging music. He is also known for his particular technique in playing the guitar – his trademark being the hammer-on. He is highly respected by countless professional musicians and fans alike due to his superb technical ability on the instrument.
Throughout his career, Mustaine has written hundreds of songs – from the songs he wrote when he first started playing in Metallica to later works with Megadeth including their biggest hits like "Holy Wars… The Punishment Due", "Hangar 18", "Symphony Of Destruction", and "Train Of Consequences". He is also used instruments such as guitar bass pedals as a way to layer other textures into the sound – helping give them even more heavy tones than before.
As a producer and engineer of recordings, it's hard to argue one could do what Mustaine did better. Certified Gold albums are an ugly testament of that claim alone. Taking up nearly 25 years of recording experience with him – something which proved essential during Megadeth's production since they were practically running their own studio – Mustaine continually developed skills at using signal processing (e.g compression), EQ and other studio tricks which let engineers shape audio signals into specific sounds they wanted while making records without complicated MIDI-controllers or digital editing systems like Pro Tools or Logic Pro X so popular nowadays.
Legacy
Dave Mustaine is widely regarded as one of the most influential metal guitarists of all time. His signature style and incredible technique have influenced multiple generations of metal musicians. Beyond his technical skill, he is also widely known for having established the genre of thrash metal, and for bringing it to mainstream attention. Throughout his career, he has earned a huge fanbase and left a legacy of music that will last for years to come.
Let's take a look at his legacy:
Impact on Music
Dave Mustaine is one of the most influential figures in heavy metal music and remains a source of inspiration for metal bands around the world. Emerging from the California thrash metal scenes in the early 1980s with such bands as Metallica, Megadeth, and Slayer, Mustaine's influence on modern heavy metal is undeniable.
Mustaine's technique for guitar playing was groundbreaking for his era and he was not afraid to experiment with different sounds and compositional ideas to draw out crushing rhythms and searing solos from his instrument. He developed a unique style of riffing technicality that pushed traditional boundaries away from generic Blues-based rock – instead aiming to create something truly new and captivatingly powerful. Furthermore, he had an amazing ability to innovate and evolve throughout his entire career without ever losing sight of what made him so popular – an intrinsic passion for music itself.
Additionally, Mustaine was the driving force behind some iconically memorable albums; "Peace Sells… But Who's Buying?" "Rust In Peace" and "Countdown To Extinction" all having been certified Platinum and Gold by RIAA respectively. His solo guitarsmanship on classic cuts like "Holy Wars…The Punishment Due" and "Hangar 18" sent shockwaves through an entire generation of young music fans eager to pick up a guitar themselves – especially inspiring those geared towards shredding leads like him. Even today, classic solos such as these define his legacy embodying inspiring characteristics deemed necessary in order to transcend any given genre or scene.
In direct summarization, Dave Mustaine certainly left a profound impact on Heavy Metal Music; radicalizing its sound from a simplistic interpretation into something much more artfully executed and multi-faceted – inspiring other musicians to pursue their passions regardless of limitations or hardships along the way.
Impact on Fans
As a musician and lyricist, Mustaine has been revered by fans for his crossover appeal as both a metal and hard rock artist. He is often credited with breaking down genre barriers in the 1980s and introducing punk and other alternate music forms to metal audiences through his work with Metallica, Megadeth and later on with bands such as Pantera. His music is well loved for its passionate musicianship, often featuring rapid skin-pounding rhythms powered by unique melodies. Mustaine's subsequent solo releases feature more sophisticated compositions but retain an aggressive edge that has seen a steady gathering of fans throughout the years.
Mustaine's influence reaches beyond music; his welcoming attitude towards fan interactions makes him endearing to many in the metal scene. Whether it's playing guitar during sound check or signing autographs after live concerts, Mustaine openly advocates making time for his fans regardless of their circumstances or location. Snapchat stories have revealed occasions where he'll spend time talking with people he meets while traveling overseas or when attending charity fundraisers within the United States. His willingness to be accessible to fans has drawn attention from members of all ages who find solace in relating to him personally through stories shared on various media outlets.
I'm Joost Nusselder, the founder of Neaera and a content marketer, dad, and love trying out new equipment with guitar at the heart of my passion, and together with my team, I've been creating in-depth blog articles since 2020 to help loyal readers with recording and guitar tips.
Check me out on Youtube where I try out all of this gear: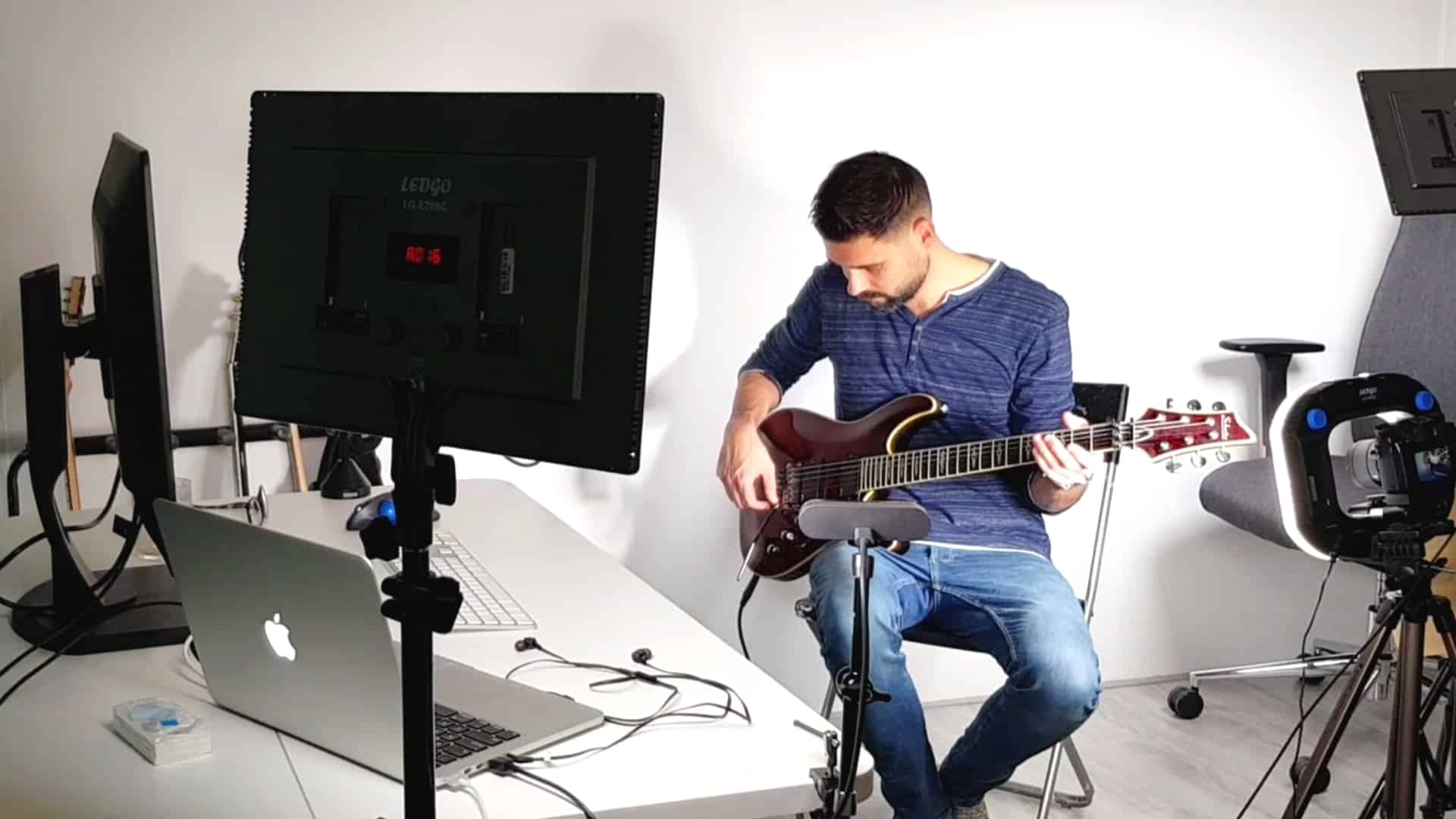 Subscribe