hi there I love creating free content full of tips for my readers, you. I don't accept paid sponsorships, my opinion is my own, but if you find my recommendations helpful and you end up buying something you like through one of my links, I could earn a commission at no extra cost to you.
Learn more
Are you looking for warm tones, reduced feedback, and clean sound? Then, a semi hollow body guitar is an excellent option.
The likes of John Scofield, John Mayer, and Dave Grohl all play semi hollows, and if you want to add one to your collection, check out this roundup of some of the best ones available.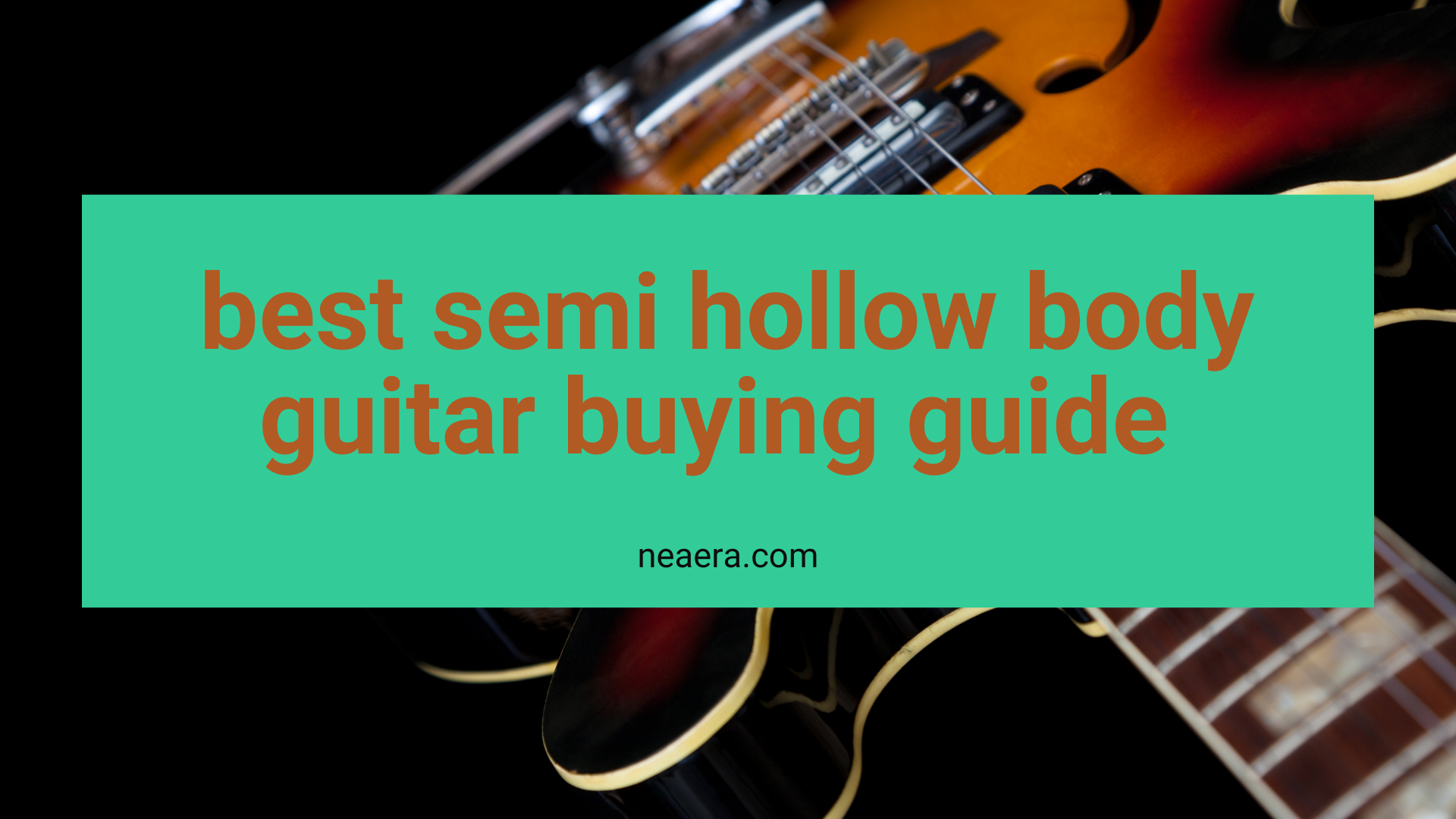 The best overall semi hollow guitar is the Ibanez AS93FM-TCD because it's well-priced, versatile for all genres, and made of beautiful flamed-maple wood. It's a stylish guitar with a distinct sound that plays well and is suitable for beginners and pros alike.
Check out this roundup of the best semi hollow guitars and my full review of each down below.
What is a semi hollow guitar?
The semi hollow guitar body is in-between a solid and a hollow body as it only has one portion of the body hollowed out, usually the area above the strings.
The design varies from brand to brand, though. Basically, a portion of the body wood is gutted.
A classic example of a semi hollow guitar is the classic 60s Gibson ES-335 with a center block running through the middle.
What is a semi hollow body guitar best for?
Semi hollow guitars were designed and invented to be a versatile type of guitar. It is a nice blend of acoustic and electric properties or a best of both worlds.
Usually, jazz and blues players want the beautiful tones you can only get with a semi hollow guitar.
So, what is a semi hollow body guitar sound?
A semi hollow guitar has the acoustic properties of an archtop, yet it reduces the feedback issues. As well, it has many of the tonal characteristics of hollow guitars, like warmth and clean tone.
But the design features an added central block. This helps manage the feedback so that the guitar can be played at higher gain and volume.
As a result, a semi hollow body is excellent for playing rock, jazz, funk, blues, and country.
Basically, they have a very warm tone and resonant sound, but they can also have a bright and punchy tone that competes with solid body guitars.
Best semi hollow body guitars reviewed
Let's see what makes the guitars in my top list such great choices.
Overall best semi hollow body guitar for the money & best for jazz: Ibanez AS93FM-TCD

The advantages of semi hollow design combined with great tone and beautiful wood make the Ibanez AS93 Artcore Expressionist model the best value for your money.
It's a mid-price affordable electric with a beautiful cherry red translucent finish. Not only is it stylish, but it's a well-made, high-quality guitar.
The body, back, and sides are constructed of flamed maple, and the guitar has a bound ebony fretboard.
The super 58 pickups (humbuckers) are great, especially if you want to play jazz and blues, but this guitar has great tone for all genres and playing styles.
Sure, the output is moderate, but it's that classic vintage tone. Legends like Pat Metheny and George Bensons are known for playing 58 pickups.
That's because these pickups offer balanced articulation and great response, which is key for jazz and blues.
Have a look at this review by Lee Wrathe and hear him play the guitar:
Whether you play clean or dirty tones, the distinct sound of the Ibanez semi hollow is sure to please your listeners.
Even beginners can learn to play on this guitar because it has a comfortable neck and a medium-sized fret.
It also has low positioned saddles, and this means that you'll feel comfy while playing.
Check prices and availability here
Also check out these 12 affordable blues guitars that actually get that amazing sound
Best budget semi hollow body guitar under 200: Harley Benton HB-35 VB Vintage Series

Ok, this guitar is a few bucks over $200, but it's a great budget-friendly Harley Benton.
As part of their vintage series, the guitar has a classic look. This particular semi hollow guitar has a maple body and a mahogany sustain block.
It's well constructed and has great tonality considering it's a low-priced instrument. The HB-35 is actually based on Gibson's ES-335 and has a similar design.
Overall, it's a versatile instrument and sounds great when you play any genre from funk to jazz to classic rock and everything in-between.
Players appreciate the beautiful clear tones of this guitar. The pickups are warm and articulate and really bring out the acoustic tones.
If you like to play jazz, you'll appreciate the neck position because of the warm and woody tone.
The Vintage Series is one of Harley Benton's best affordable series because the guitars are well made. In fact, the finish is almost impeccable and competes with 500-dollar guitars no problem.
The frets are level and have nicely finished ends. You might not have to do a fret level, crown, or polish.
Check out the sound of this guitar:
My final verdict is that this is a great guitar for playing at home and practice.
It's not as loud as some others, but at this price, it performs exceptionally well. So, if you just want to test and get started with a semi hollow, the HB-35 is my top budget pick!
Best semi hollow body guitar under 500: Epiphone ES-339 Vintage Sunburst

Epiphone has been one of the best guitar brands for more than a century.
This affordable semi-hollow is one of the most comfortable instruments to play. It's also one of the most popular semi hollow guitars on the market!
The tone is rich and sweet and makes for smooth, balanced playing.
The ES-339 has a sleek vintage sunburst design and finish and the great quality you'd expect from Epiphone. The neck is made of mahogany, while the top, back, and sides are maple.
It also has nickel hardware which not only looks good but it makes the guitar durable.
The guitar has a rounded C neck profile and an Indian Laurel fretboard. But many of its features are similar to Gibsons, which makes this the type of affordable guitar ideal for beginners and pros alike.
Want to hear how this guitar plays? Check out this short video:
This guitar is equipped with a push-pull coil-tapping mechanism. It makes switching between tones for every pickup a bit easier.
What makes this a special guitar is the smooth and seamless up and down movement on the fretboard while you play. Oh, and let me tell you, it has incredible sustain because of the solid center block.
Check prices and availability here
Best semi hollow body guitar under 1000: Gretsch G5655TG Electromatic CG
There's no going wrong with a Gretsch G5655TG semi hollow body guitar as they're the embodiment of vintage vibes, seen in the hands of Chet Atkins and Brian Setzer.
This Cadillac Green color is a nod to classic and timeless guitar design. This guitar has it all at just under $1,000: a beautiful green finish, Broad'Tron pickups, and even Bigsby vibrato.
The design is gorgeous; the body is made of laminated maple with a maple neck and laurel fretboard. It also has a solid chambered spruce center block for plenty of sustain and an anchored adjusto-matic bridge.
Overall, the maple gives the guitar that classic woody tonality. The thin U-profile neck and 12-inch-radius fretboard is ideal for fleet-fingered players.
Watch the official Gretsch presentation video:
You can play this guitar, regardless of genre, but it's best suited for blues, rock, jazz, and ambiance music.
The pickups sound really nice and clean but when you set the gain up or play gritty, it still sounds really good.
Oh, and you get the Gretsch double volume, master volume, and master tone setup too.
Best semi hollow body guitar under 2000: Guild Starfire VI Snowcrest White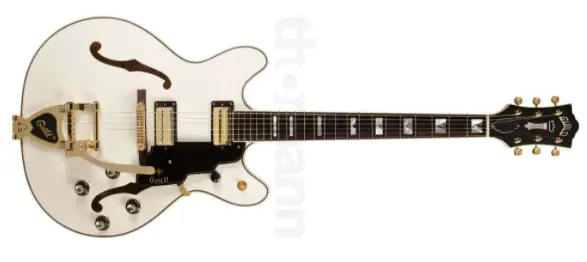 The Guild Starfire VI is a premium guitar with a beautiful white laminated maple body. Think of it as the crème de la crème when it comes to Guild Starfire guitars.
It has a double-cutaway body and a rosewood fretboard. It embodies the classic 60s guitar style. So, if you're after amazing but varied tones, this is the perfect guitar for you.
It can play a range of tones; thus, it's suitable for all kinds of genres, including blues, rock, indie, country, jazz, and more.
Everything about this guitar screams elegance and high-end class. The semi-hollow Thinline design offers a great warm sound, and the centre block minimizes feedback.
There's a 3-piece neck (maple/walnut/maple), and it adds attack to the sound, yet it remains stable. What I like about this guitar is that the LB-1 pickup delivers very rich vintage-style tones.
Hear this guitar in action:
If you want a guitar that's easy to tune, you'll enjoy the Grover Sta-Tite tuners (check out all types of tuners here) that offer amazing tuning stability and make your life easier.
I can't forget to tell you about the guild vibrato tailpiece. It's great for pitch changes and gives you some big expression as well as control.
Check prices and availability here
Best P90 semi hollow body guitar & best for metal: Hagstrom Alvar LTD DBM

If you're looking for a P90 guitar, you're after that bright voicing, warmth, and open articulation.
Don't overlook the Swedish brand Hagstrom and their Alvar LTD DBM model, which is a mid-priced P90 guitar with great design and features.
These are the types of guitars that deliver the indie, alternative, metal, jazz, and country and rock sounds.
The P90 pickups have been around for decades, and they're still one of the most versatile humbuckers around. Keith Richards and John Lennon used P90 pickups to play distortions.
Want to hear a Hagstrom in action? Take a listen:
This Hagstrom guitar delivers brightness, clarity, better bass response, and more warmth compared to non-P90 models. It's the kind of guitar that not only looks good but sounds good too and is known for clean tones and a smooth sound.
In fact, with P90 pickups, you create distorted tones, which are perfect for old-school rock n' roll.
But, if you want to play metal, the pickup helps too. The guitar's easy playability helps you play thrash riffs and blazing solos.
The guitar has a maple body, a glued maple neck, and a resinator wood fretboard. It has a slim D neck profile and 22 medium jumbo frets.
Some players would say it's a simple guitar, but it's well made, has excellent tonality, and therefore, it's a great investment if you're after a new P90.
Best semi hollow body guitar for rock: Squier Contemporary Active Starcaster

The Fender Squier Contemporary Starcaster series is designed for modern rock n' roll. It's a fresh take on the classic Starcaster design, and there are lots of improvements.
It is semi hollow even though there are no F-holes. Instead, they sealed the body to minimize the feedback. As well, the guitar is equipped with SQR ceramic humbucking pickups and a PPS nut.
This is an excellent guitar for all genres because there is only one master volume and tone control. But, for rock tones, it's one of the best semi hollows.
Therefore, it's the type of loud guitar, perfect for the stage. The SQR ceramic humbuckers sound great, and they have the same kind of power as you've heard on classic rock and heavy metal albums.
The bridge pickup roars when you play, so you can go as hard or as soft as you want.
Check out this short review:
Overall, this guitar offers a spectrum of noises that your solid-body instrument can't, and you'll have fewer problems with feedback.
With the two control knobs, you can manipulate the instrument easily.
This high-powered guitar comes in modern colors like icy blue, light green, or classic black. You're sure to find the design that appeals to you.
Check prices and availability here
Best semi hollow body guitar with Bigsby: Gretsch G2655T IS Streamliner

With a Bigsby vibrato tailpiece and the classic Gretsch look, this affordable guitar is an excellent pick.
You'd expect a Bigsby-equipped model to be more expensive, but Gretsch has streamlined their guitars to make them more accessible without losing the good quality and tonality they're known for.
The Bigsby B50 tremolo lets you bend the pitch of notes and chords using your pick hand. Thus, you can create the effects you really want.
A three-way toggle selector switch controls the humbuckers, and then you have master volume controls on the treble side horn. Then there are also another three controls by the F-hole treble side.
The guitar has a new center block and a maple laminate body. Although the guitar's body is downsized compared to other models, the neck and other parts are regular size.
In terms of sound, I'd say that although it's a semi, the sound is more solid but with less bass end.
Look at this guy playing the Streamliner to get a sense:
The solid tonality is a feature that many Gretsch players appreciate. However, they critique the bad strapped-on balance.
But the tonality is so great, and it's such a versatile instrument, it's worth the price.
Best semi hollow body guitar for left-handed players: Harley Benton HB-35Plus LH Cherry

You're likely wondering, "are there many left-handed semi hollow body guitars for sale?" but the answer is sure there are.
But, this budget-friendly Harley Benton, with a beautiful maple body and the cherry color, is the one to try.
At less than $300, it's part of the Harley Benton vintage series and has the special Pau Ferro fretboard. So, not only is this a great guitar for lefties, but it's affordable and suitable for beginners too.
This guitar is no doubt visually striking, thanks to its AAAA flamed maple top and F-holes. The cherry gloss finish is reminiscent of the old swing days.
I highly recommend it if you want to play jazz and rock, but it's also suitable for anything from funk to heavy metal and other genres in-between.
This guitar holds the pitch quite well and has a nice full sound with lots of air.
Check out this lefty player with this guitar:
The HB-35PLUS, of course, has the benefits of a semi hollow guitar thanks to the sustain block. A sustain block helps to reduce susceptibility to feedback while it offers added stability while playing.
Did you know that the likes of Chuck Berry, Bono, and Dave Grohl are associated with this guitar style? It just comes to show that it's versatile for all genres.
Check prices and availability here
Best Premium semi hollow body guitar: Gibson ES-335 Figured 60s Cherry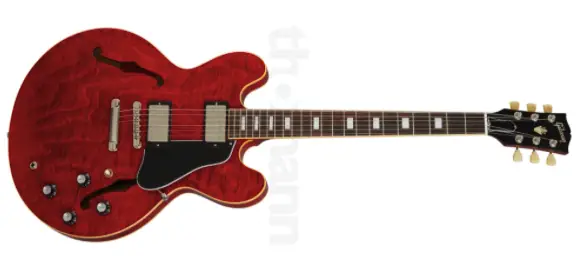 This is the guitar of dreams for many players. Chuck Berry, Eric Clapton, Dave Grohl, and many more famous musicians play the classic Gibson ES-335.
It can set you back almost 4k, but it's one of the top, if not the best semi hollow guitars of all time. It's the original Thinline semi hollow guitar, first released in 1958.
The guitar is made of a maple body, mahogany neck, and a premium rosewood fretboard. Overall, it's extremely well-built of high-quality wood thus it's known for outstanding tonality.
It reduces the feedback you usually get from a hollow body instrument. But it also maintains a warmer tone than its solid body counterpart.
Take a look at Eric Clapton on the 335:
With this Gibson, you can play higher frets thanks to the Venetian cutaways and the neck joint, located at the 19th fret.
It's the ideal guitar for blues, rock, and jazz.
This cherry red model is absolutely stunning and really brings back that sixties vibe. I would recommend this guitar for Gibson fans, collectors, and pros looking to play a classic instrument.
Famous semi hollow body guitar players
Over time, many musicians have experimented and played semi hollow guitars. The most famous of these guitars is the Gibson ES-335.
Dave Grohl of the Foo Fighters plays the ES-335 model, and he was inspired by famous jazz guitarist Trini Lopez. Although they play very different musical genres, the guitars prove their versatility.
In fact, the ES-335 is so popular that Eric Clapton, Eric Johnson, and Chuck Berry all recorded with this guitar.
It's believed that John Scofield re-popularized this guitar, but it doesn't really matter, as many of the world's best players use this guitar.
The bottom line is that this model was the first Thinline semi hollow body guitar, and it has inspired generations since its release in 1958.
These days, you can see John Mayer play semi hollow guitars. Also, if you're into modern rock, you'll appreciate the semi hollow guitar sounds played by Caleb Followill of the band Kings of Leon.
Semi hollow body guitars advantages and disadvantages
Just like any other guitar, a semi hollow body has its pros and cons. Let's take a look.
Pros
Resistant to feedback
Have a beautiful, stylish design
Excellent clean sound
Less sustain
Very lively and musical sound
Versatile for all genres
Playing these guitars is a tactile experience – you feel the guitar vibrate in your hands
Handle lots of gain
Thicker sound
Have a durable build
Cons
Hard to repair
Expensive to repair
Not as suitable for heavy metal
May not be comfortable to play
Not ideal for tight high gain
Hard to control with high stage volume
With single-coil pickups, the sound is thinner than you're used to
They can be harder to play than other guitars
Semi hollow vs F-hole guitars
A solid body guitar with a small portion of gutted wood is called an F-hole guitar. Now, don't confuse that with a semi hollow body.
The semi hollow has a larger part of the wood cut out. Also, a semi hollow has a centre block in the middle, and that's where you put the pickups.
This minimizes the feedback you'd get from a hollow body guitar.
The guitar holes or F-hole create different tonal responses from the guitar. They also help the guitar project its natural sounds.
Takeaway
There's definitely some debate as to what type of guitar is best for each genre. Some will tell you that a semi hollow is not good if you want to rock out, but the truth is, it all comes down to personal preference.
Chuck Berry sure knew how to play with semi hollow, and there's no reason why you can't too.
Since there are so many models at all price point, starting out with a budget semi hollow can be a great way to discover if this type works for you.
The playability is key, and if you can get amazing sound from your guitar, then it will be a keeper!
Also check out my review of the 5 best fanned fret multiscale guitars: 6, 7 & 8-strings
I'm Joost Nusselder, the founder of Neaera and a content marketer, dad, and love trying out new equipment with guitar at the heart of my passion, and together with my team, I've been creating in-depth blog articles since 2020 to help loyal readers with recording and guitar tips.
Check me out on Youtube where I try out all of this gear: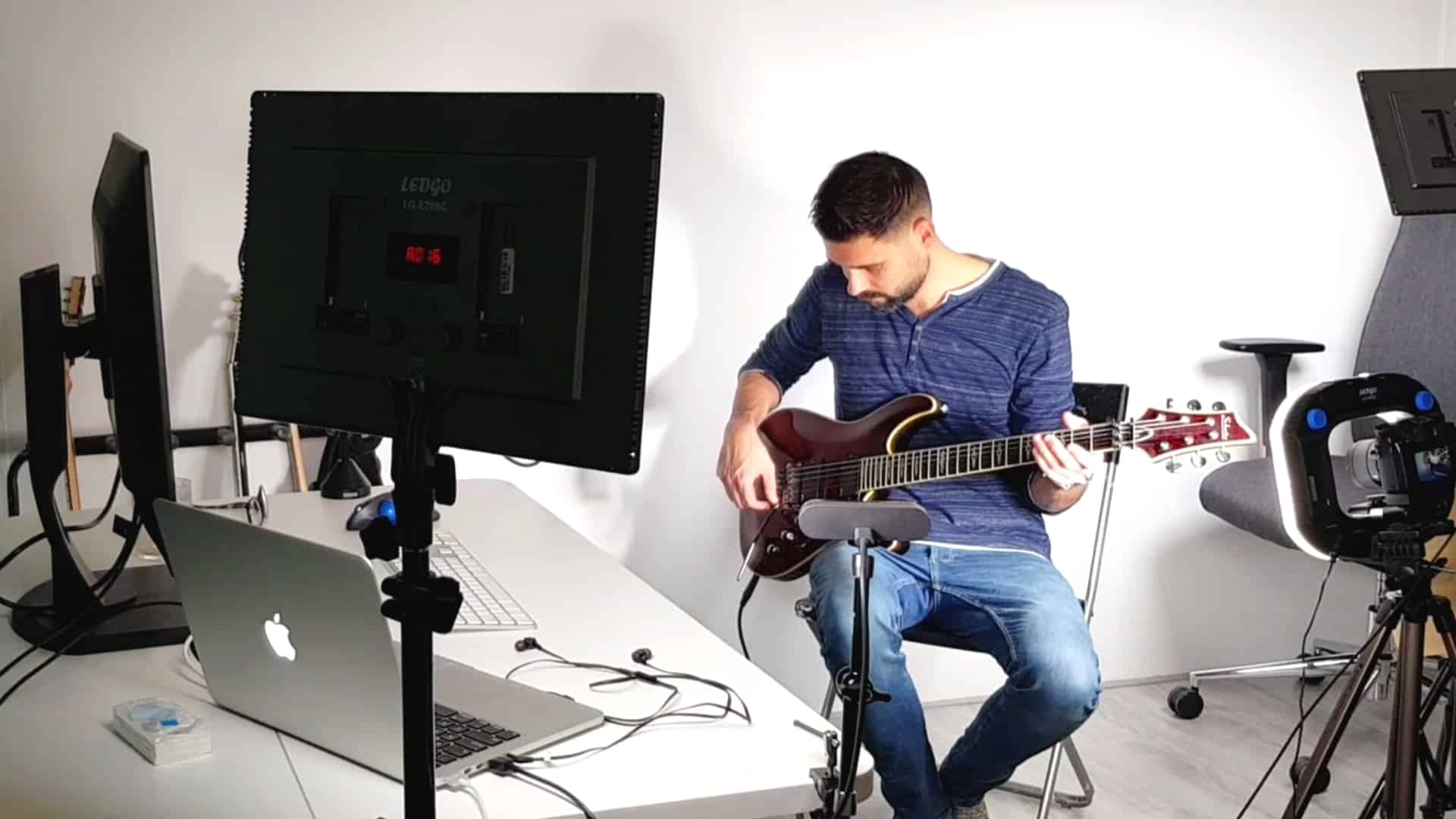 Subscribe