hi there I love creating free content full of tips for my readers, you. I don't accept paid sponsorships, my opinion is my own, but if you find my recommendations helpful and you end up buying something you like through one of my links, I could earn a commission at no extra cost to you.
Learn more
The FL studio gives musicians an all-in-one software that helps them record and mix their records.
This software gives them a professional sounding recording.  With this software, the musicians are able to bring all their individual songs to the mixing board.
This is efficient for people who are trying to mix songs with different styles and genres.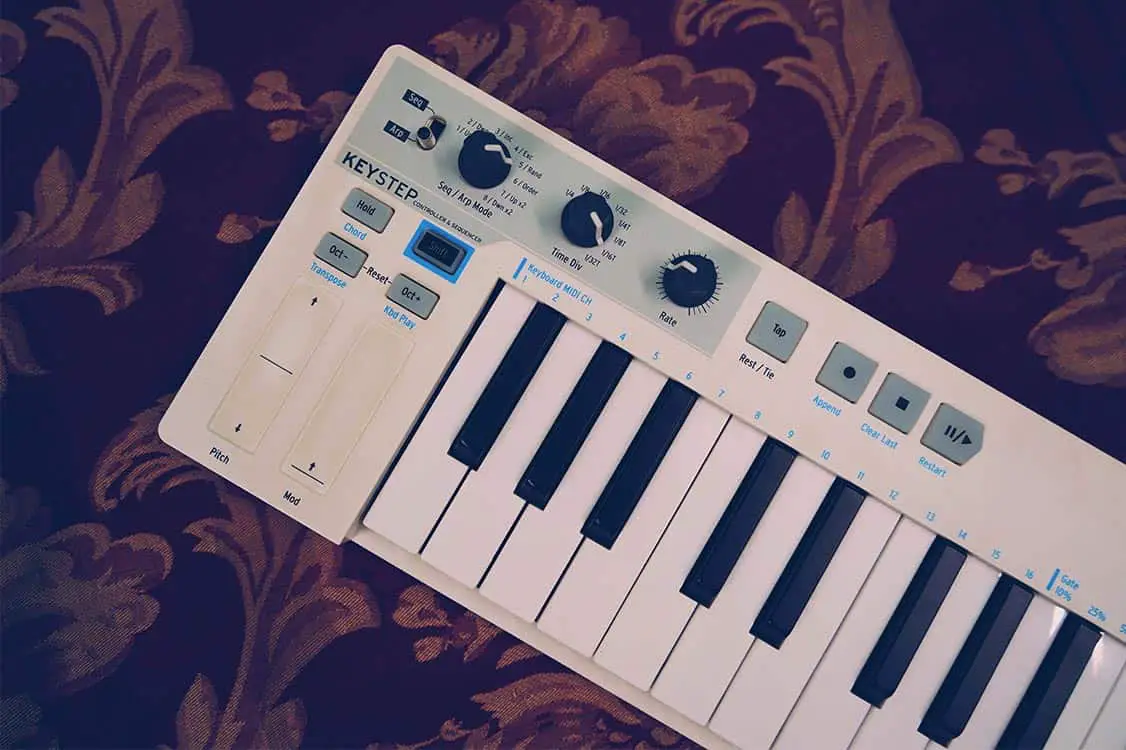 Its Flexibility in recording, its editing tools, and the diverse sounds, has made this FL studio to be popular among musicians today.
A midi keyboard gives you the luxury to record using the FL studio software.
There are many midi keyboards on the market today and getting the best midi keyboard for FL Studio 12 may be challenging.
If you just want a good keyboard that's not too expensive but has all of the possibilities in it, like 49 keys plus drums pads, knobs, and levers, this M-Audio Oxygen 49 would be the one to go for.
It has everything you might need to start getting the most out of FL studio. Of course, there are a lot more options and I'll get into those as well.
Getting the best midi keyboard is key to ensuring you get the best sound. Below is our research on the best midi keyboard on the market today.
Let's take a look at the best options real quick and then dive more into it:
Reviews of Best Midi devices for FL Studio 12
Best cheap budget midi keyboard: M-Audio Oxygen 49
Want to set your midi controller with your FL studio software? Why not opt for M-Audio Oxygen 49?
It is one of the best midi keyboard controllers in the market with a simple set up process.
It also features 49 controls which have customized map presets that easily interface with the effect plugins and the virtual instruments
The M-Audio Oxygen 49 is a budget friendly option compared to other devices with the same functionality.
It also has is  small size and is light enough to carry.
PMTVUK has this to say:
If you are looking for one of the best midi keyboards available, then the M-Audio Oxygen 49 will give you an excellent finish to your music.
It features a touch loops sample library, which offers you the best in your production. This offers excellent playing experience and provides you with natural sound.
Pros
Cheaper to purchase
Lightweight
Great control system
Solid construction
49 semi-weighted keys
Cons
Lacks velocity sensitivity
Keys are loud
Check the latest prices here
Best midi drum pad controller: Akai Professional mpd226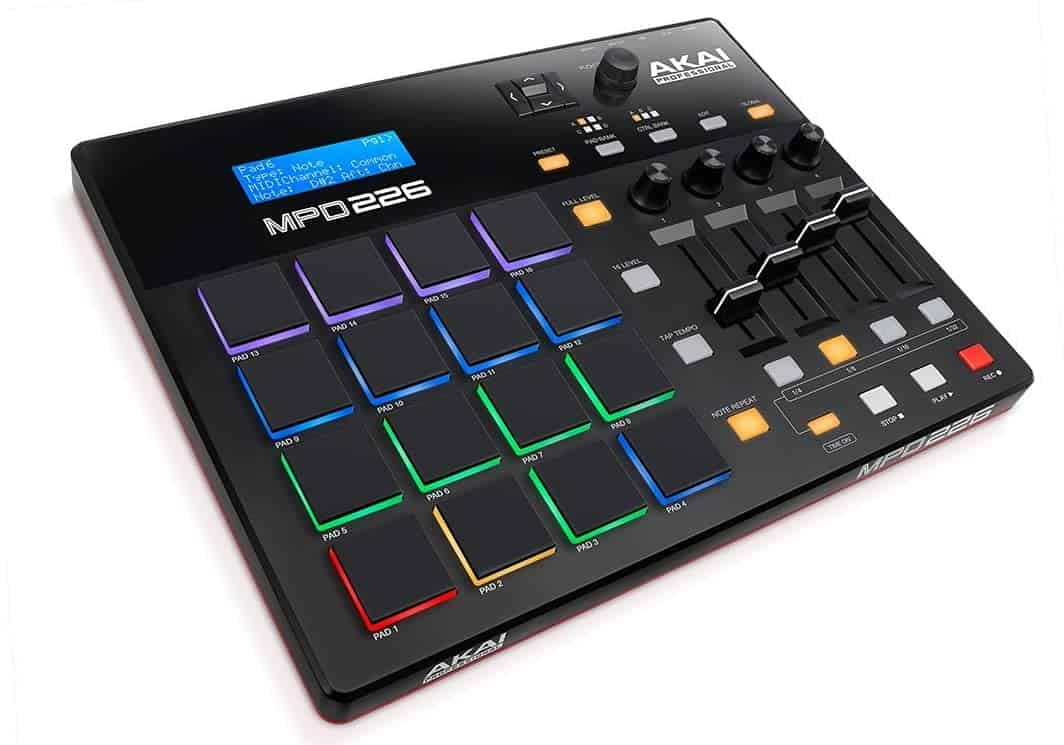 USB cable, 64 pad banks, 4 knobs
The Akai Professional mpd226 is one of the best pad controllers on the market, and includes several excellent features that you cannot ignore.
It comes packed with 16 lit pads that are accompanied by an extra 4 distinct banks. It also features four control knobs that give you full control of your gadget.
The durability of your device is one of the features that one cannot forget when purchasing a product.
The Akai Company has considered this when developing their product.
Here's Clancy Clark showing us how to make a beat:
There are installed transport controls in them which makes the device more durable and efficient to use, without fear that the device will fail.
With the Akai Professional MPD226, you need not worry about power because this is a plug-and-play device that allows you to use the device with just one USB connection.
The plug and play device gives you efficient power to the midi keyboard, then immediately the information to your computer. It also has AC power that can be used as needed.
If you prefer a midi keyboard that is human-friendly then look no more, the Akai Professional mpd226 is the one for you.
It comes with many fat pads that are generally very soft for your hands and more comfortable to use.  This enables you to use the midi keyboard for long hours without straining.
Pros
Lightweight
Super thick pads for comfortability
High-quality smooth knobs
Noise-free pads
Human-friendly
Cons
Double triggering effect
Long set up a process
Check prices and availability here
Best professional midi keyboard: Novation launch 61 keys

Novation launch key 61 USB keyboard controller is one of the best midi keyboards on the market today.
It is a plug and play device that only requires one USB connection in order to come to life.
The keyboard is also lightweight enough that you can carry it around easily. When purchasing, you can choose different note versions, including 61, 49 and 25 note versions.
For those people who do not have time or knowledge to find compatible software, this device may be your best option, as it comes with the cables and reliable software that you need to make good music.
It is one of the midi keyboards in handling all the available DAWS.
Here's how to use it for some sweet live loops:
The keyboard also comes with knobs that are essential to help you to map the instrument controls.
Pros
Easily portable
Excellent control system
Easy setup process
Allows for USB connection
Cons
Check prices and availability here
Best midi block pitch controller: Roli Seaboard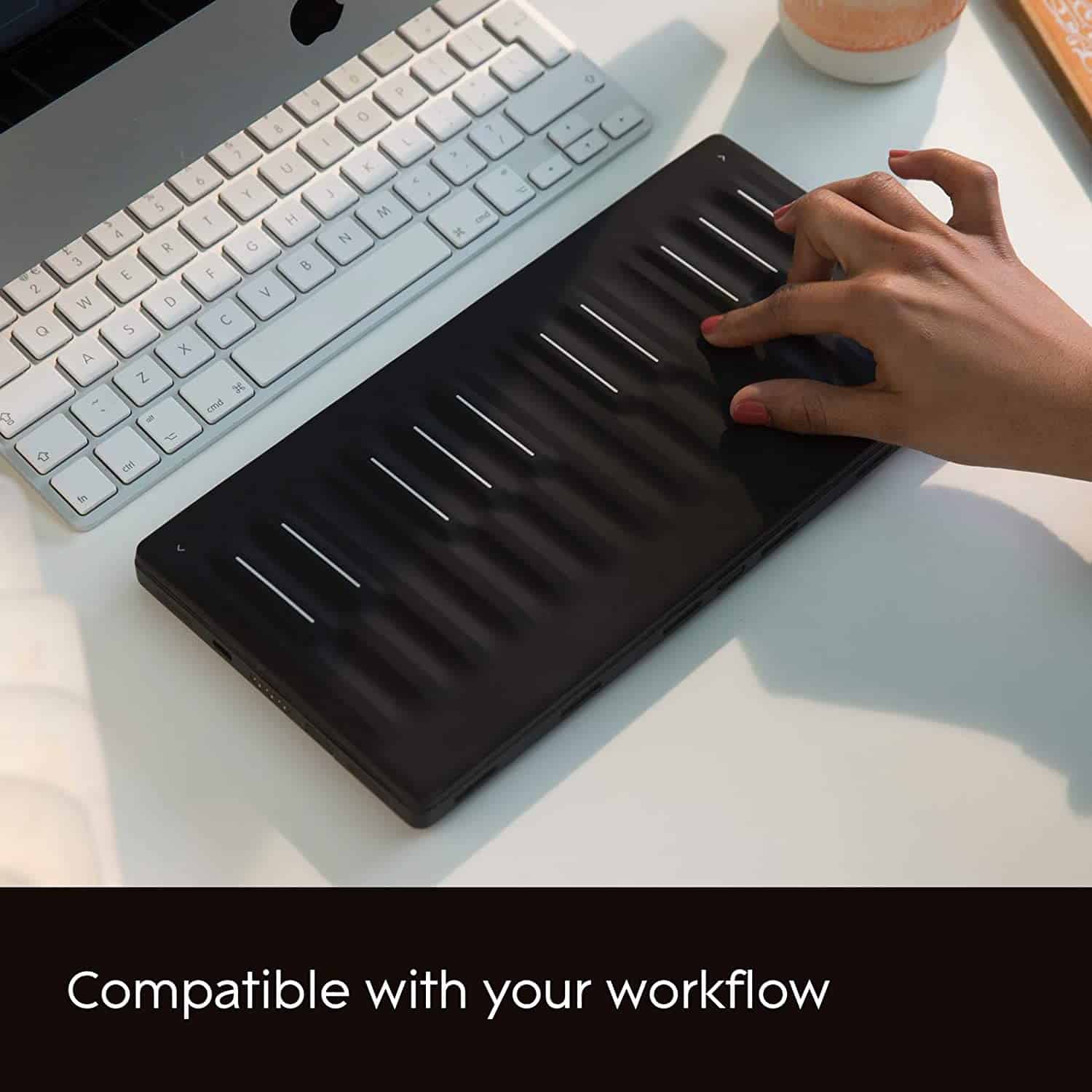 The Roli Seaboard Block Controller does not disappoint, as it is one of the best in the market.
It has some great features that make it distinct and separates it from other midi keyboard controllers on the market.
It can be able to be powered either by a USB or an AC battery and is able to use Bluetooth to connect.
With its features, it feels the same as other more expensive seaboards on the market.
Its body is made of plastic construction which is different from the normal metal construction.
It features five touch technology and 24 key waves that are sensitive, which makes it one of the best technological keyboards on the market.
This is important to musicians who value technology in producing their music.
Here's everyone's favorite player Jordan Rudess playing on a full-size Roli Seaboard with some pretty amazing sounds:
This excellent technology helps one to modulate the volume and the pitch just by moving fingers on the keyboard.
The Seaboard Block does not limit you to just using one device at a time. It allows you to connect other products to the block in order to enhance their performance.
This features easy setup and use.  With this, you only need two octaves in order to play your music.
Pros
Great connectivity
Strong construction build
Wireless
Advanced technology
Cons
Does not include expression controls
Spacing ridges are narrow
Check prices here
Best large 88 key midi keyboard: Nektar Impact lx88

USB compliant, 9 LED buttons, 88 semi-weighted keys, and DAW integration
Although quite expensive to purchase, it is one of the best midi keyboards on the market.
This product would be an investment, giving you the luxury of enjoying it for many years without breakage.
It comes with nine LED buttons that can be easily programmed with different midi messages.
The previous midi message sent is remembered and given a corresponding button that is illuminated.
It also gives you the luxury of being able to use eight pads in sending the program messages at a time.
Here you can see Walid using his Nektar:
When the LED buttons are used in conjunction with the DAW integration, status is indicated.
If you are considering having a range of keys, then this is exactly the midi keyboard you need. It comes with 88 semi-weighted keys.
It also gives you an excellent performance.
The 88 keys are velocity-sensitive and are balanced carefully with a dynamic response that helps you record or play any style of song with them.
The keys are well covered to curb them from dust and dirt.
This device is associated with excellent pads that are velocity-sensitive which is easily triggered even with a light touch.
Pad learn feature is installed in the pads, which gives you the option of selecting a pad and it plays a note.
The pad locations maps are an excellent feature that helps to store your settings to be used in the future.
Pros
High-quality midi keyboard
Easy integration with the FL studio
No power plug is required
Solid construction
Lightweight
Cons
Check the latest prices here
I'm Joost Nusselder, the founder of Neaera and a content marketer, dad, and love trying out new equipment with guitar at the heart of my passion, and together with my team, I've been creating in-depth blog articles since 2020 to help loyal readers with recording and guitar tips.
Check me out on Youtube where I try out all of this gear: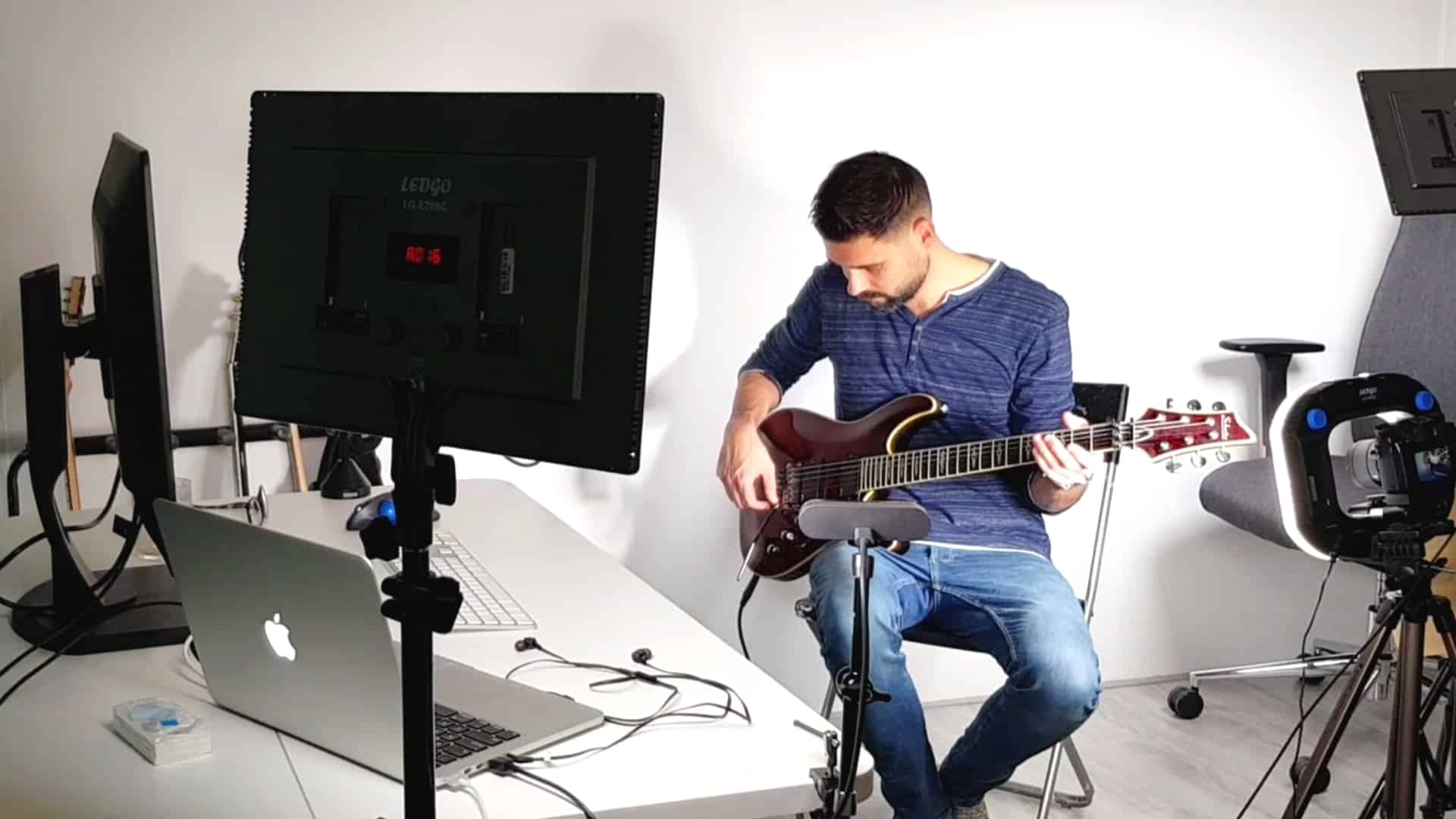 Subscribe