I love creating free content full of tips for my readers, you. I don't accept paid sponsorships, my opinion is my own, but if you find my recommendations helpful and you end up buying something you like through one of my links, I could earn a commission at no extra cost to you.
Learn more
When it comes to altering the sound of your guitar, there is no easier way to achieve maximum difference than by using the best guitar distortion pedal.
Distortion pedals work by increasing the gain in your signal to produce a fuzzier or gritty tone.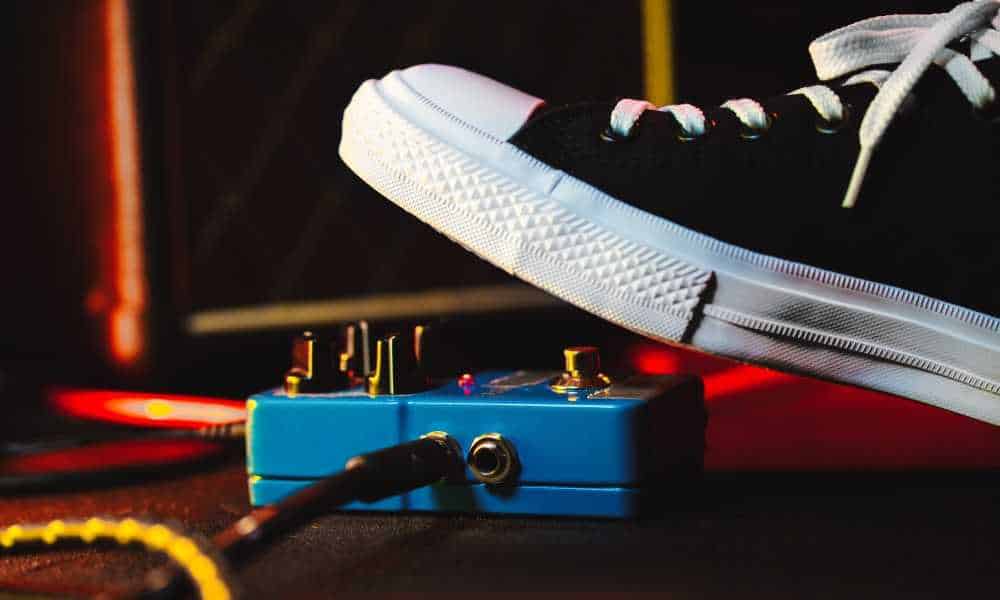 Originally, sound distortion was discovered through overdriven sound that caused the signal to distort.
This led to the development of specific techniques directly aimed at causing this sound effect.
With so many distortion pedals available on the market, this article looks to narrow your search by reviewing some of the more popular models currently available.
By the end of this article, you should have a clear understanding of what features make the best guitar distortion pedal and whether or not any of our recommended models are a good fit for you.
The best, I have to say, is the Electro-Harmonix Bass Big Muff Pi, but it's also the most expensive. That's why I personally like this ProCo Rat2 the best.
It's got this classic rock sound that's hard to recreate with anything else, and it's also a lot more affordable.
If you're looking to get some chugging riffs in there, or want to boost your lead tone quite a bit, that's the one to get.
Of course, there's a pedal for every need and that's why I've got these top ones from budget to the pro sustain from the Big Muff.
Let's take a look at the top choices real quick, and then I'll get into the review of each:
Also read: want more than distortion? These pedals are the best in their class
Best Guitar Distortion Pedal Reviewed
Best classic Hardrock distortion: ProCo RAT2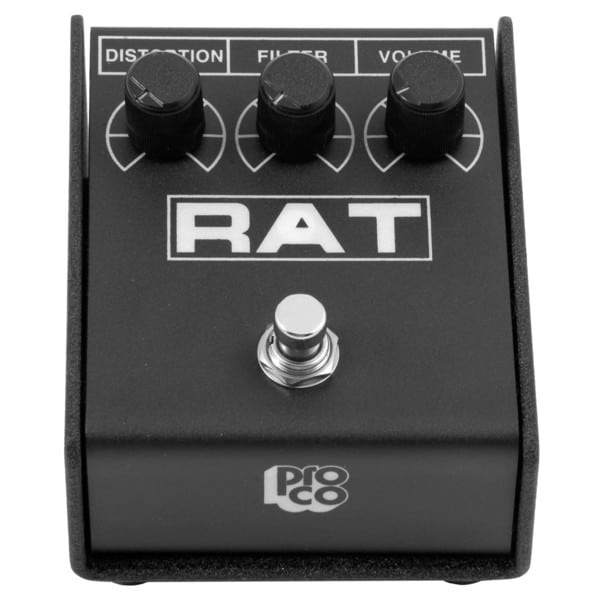 The ProCo RAT2 has been around for a long time.
In fact, it has appeared on thousands of recordings over the last few decades thanks to its versatile distortion levels and reliable construction.
This pedal is incredibly intuitive too, leaving the user three logical control knobs to utilize in order to acquire their preferred sound effect.
Review
Made with an all-metal enclosure, this distortion pedal is extremely durable.
Certainly, it can cope with heavy usage and the typical wear and tear experienced from traveling between gigs.
This is a small pedal, measuring only 4.8 x 4.5 x 3.3 inches. Such measurements allow it to fit on an array of pedalboards without taking up too much room.
It comes with a ¼-inch input and output jacks as well as a coaxial power connector.
Designed with simplicity in mind, users are able to manage and modify the level of distortion through the three control knobs conveniently located on the top of the pedal.
Here, they can adjust the volume level, the filter level for the type of distortion, and the distortion level itself.
This varied level of distortion allows for arena-rock tones, soaring leads, a crunch channel for louder amps, or even as a boost for guitar solos.
Pros
Versatile sound output
DC or battery power supply
Durable construction
Cons
Can cut upper frequencies on the fast setting
Power supply requires an adapter
Check the latest prices here
Also read: how to make a pedalboard with effects in the right order
Best cheap budget distortion pedal: Joyo JF-04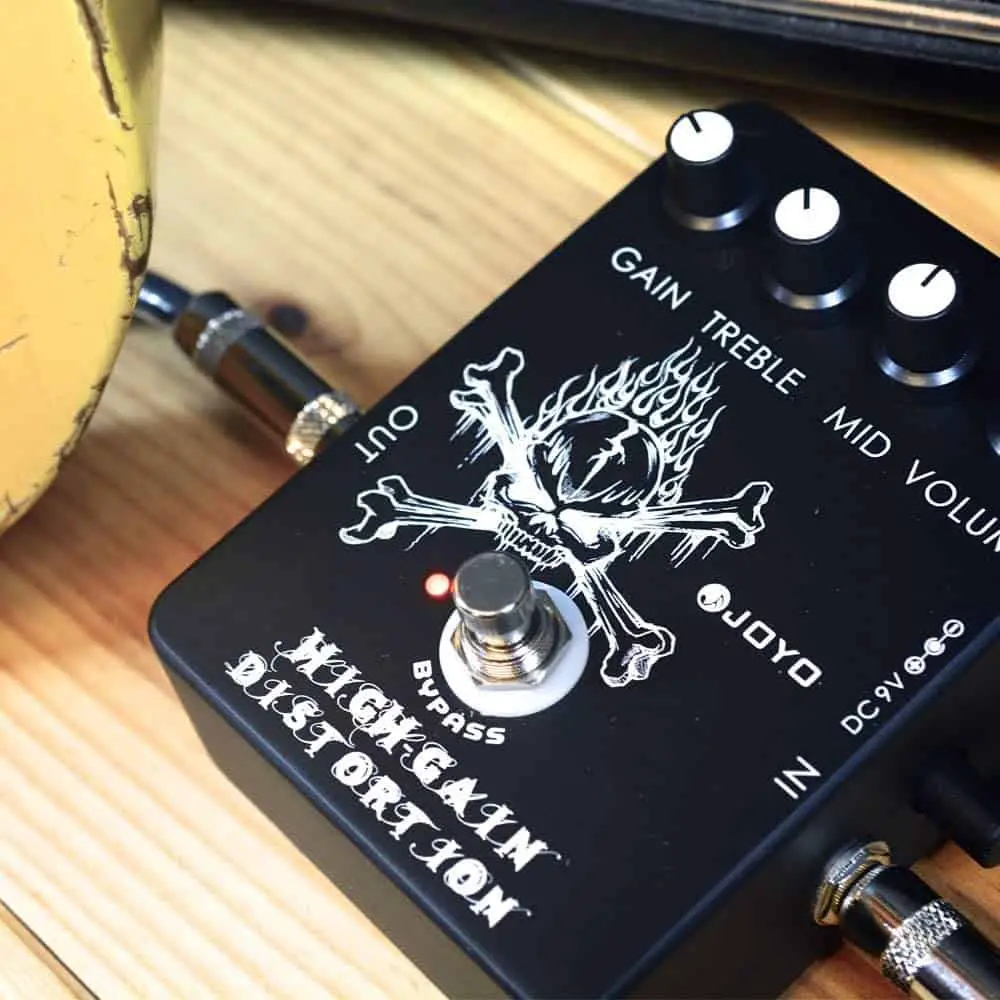 This high-gain distortion pedal is fantastic for achieving quality heavy-metal tones, but it can also do more than just that.
With proper adjustment, you can also hit a fantastic crunch for rocky blues or turn the gain all the way up to reach Sabbath-level tones.
Review
Made from a high-grade polymer, this pedal isn't as strong or as durable as others on this list.
However, it does make it incredibly lightweight, which is also aided by its compact size measuring only 1.8 x 5.9 x 3.5 inches.
Joyo has also made sure to include a 9V battery with this pedal so that you can choose to run it wirelessly if you like.
If cables are not a problem for you, then you can also plug it in for a more solid connection.
This pedal offers a fantastic range of tones thanks to its interface that allows the users to really customize their sound through altering gain, treble, mid, and the overall volume.
These settings provide the users the option to alter the tone, pitch, midpoints, and volume respectively.
This pedal also uses True Bypass circuitry, which allows all of the nuances in your sound to be heard and delivers a truer representation of how the guitar is meant to sound.
Users will also benefit from an LED that depicts the operational state of the pedal as well as side positioned inputs and outputs for better cable management.
Pros
Extremely affordable price
High level of signal customizability
Superior metal tones
Cons
No bass control
Relatively noisy during operation
Check the latest prices here
Most versatile distortion pedal: Donner Alpha Force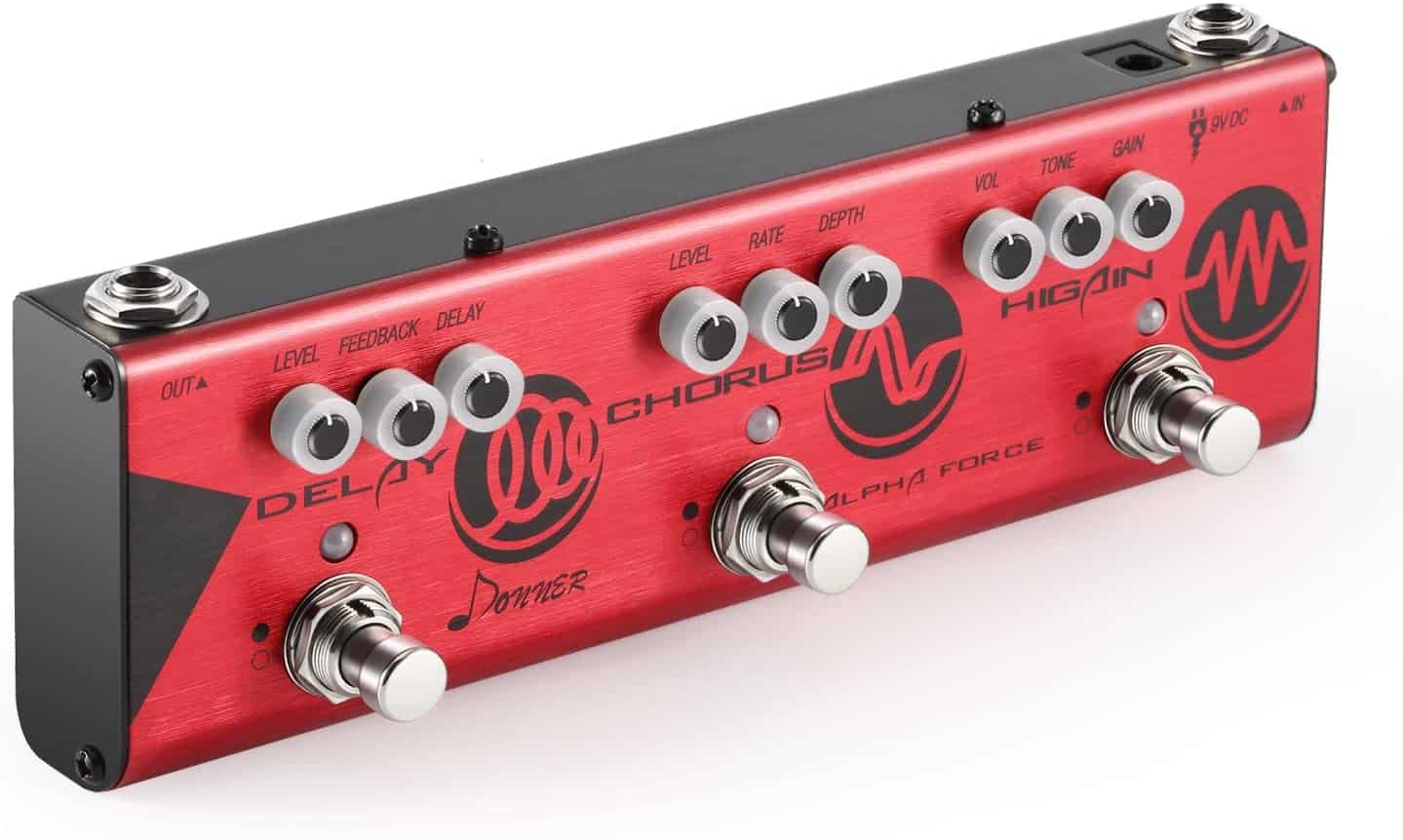 This Donner guitar effects pedal offers a range of sound manipulation that can help any level of guitarist achieve a rich and unique sound.
This pedal is perfect for both the classic rocker or the blues player.
It is a great purchase for those who are looking for that little extra and not your average distortion panel.
Review
With a solid metal construction, this is an extremely durable guitar pedal that can put up with rough, everyday use.
It's also significantly larger than any of our other recommended pedals due to its three-in-one construction.
It measures in at 1.97 x 2.91 x 13.39 inches. Despite its size though, this pedal is still relatively lightweight at only 14.1 ounces.
The problem with it being so long is that it may prove difficult to fit onto an already filled pedalboard.
This would mean that users will have a hard time achieving the series they want as these effects are already directly connected to one another via their static positioning.
Nevertheless, guitarists of any skill level will be glad to know that this pedal allows for three distinct effects to be altered.
These include:
Delay: Here, users can control the level, feedback, and delay. These alter the volume level of the feedback, the rate of the feedback, and the time delay of the sound, respectively.
Chorus: This effect is similar to phasers or flanges in terms of sound. It adds a richness to your tone that makes it sound doubled. Users are able to alter the volume of the mix with the level knob, the intensity of the effect through depth, and the speed of the effect through rate.
Distortion: Users have three controls over their distortion effect: volume, gain, and tone. Volume is rather self-explanatory, whereas gain controls the level of distortion and tone changes the overall sound (whether its heavy metal or smooth blues).
Pros
Three-in-one effects pedal
Lightweight construction
All-metal frame
Cons
Poor chorus effect
Difficult to fit onto a relatively full pedalboard
Check the latest prices here
Best pro sustain: Electro-Harmonix Bass Big Muff Pi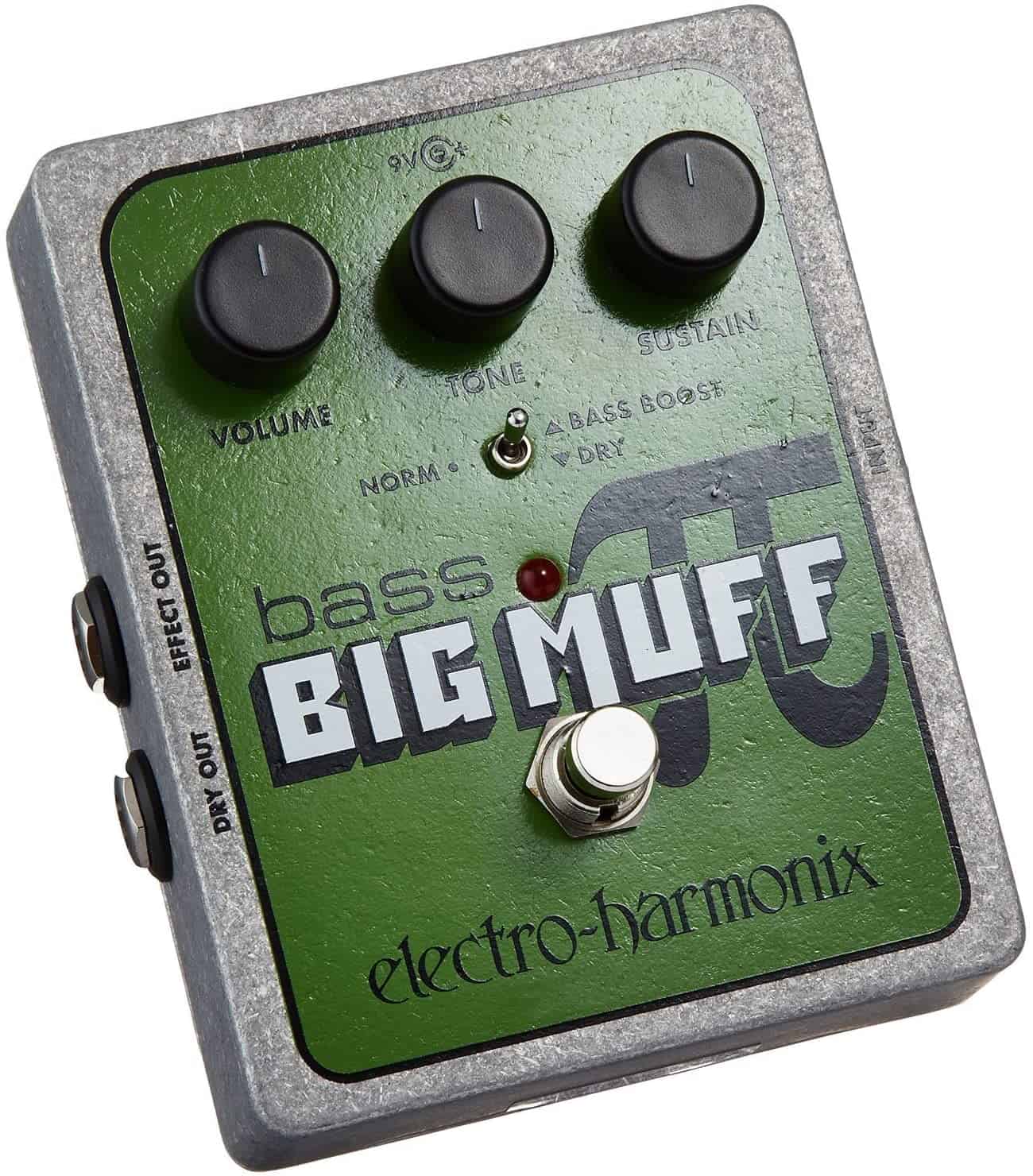 The Bass Big Muff Pi Distortion and Sustain Pedal is produced by Electro-Harmonix, a famous brand of quality pedals.
This pedal is great for those who aren't simply looking to distort their sound but also enhance its sustain (the endurance of the strings vibration).
Review
Made from a tough and compact die-cast chassis, this pedal is built to take a beating during everyday use.
For the guitarist's convenience, this distortion pedal is designed with separate outputs for the effect output and dry output.
What's more is that users have the option to run it on an AC power supply or via the included 9V battery.
Larger than your average pedal, the Bass Big Muff Pi measures in at 6.2 x 3.2 x 5.7 inches.
This pedal provides guitarists with four different methods of altering the sound.
This can be achieved through the volume, tone, or sustain knobs, as well as the three-point switch with the options: normal, dry, or bass boost.
On the other hand, the sustain function allows users to determine the level of vibration carried through the signal, while tone alters the frequency of the sound from high treble to deep bass.
The three-position dry switch makes it possible to toggle between distinctive sound settings.
The bass boost mode adds bass to the distortion, and the dry mode outputs the original dry signal from your instrument mixed with the distortion and delivers the pure tone of the pedal.
Pros
Three-position dry switch
Die-cast chassis
True Bypass tech
Cons
Hard to achieve subtle distortion
Boosts signal quite a lot
Check prices and availability here
Also read: the easiest method to power multiple guitar pedals
Best distortion pedal for metal: Biyang King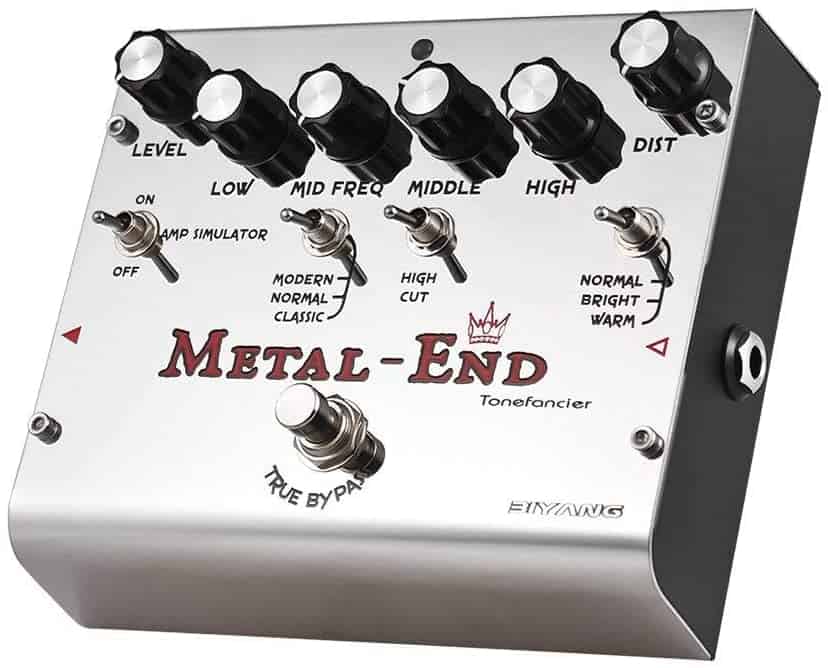 The Biyang King is an awesome entry-level distortion pedal that provides guitarists access to a wide range of tones and melodies.
This is all thanks to its three different settings that can be altered further through the control knobs.
Review
An all-metal construction is often hard to find on such affordable pedal options, which makes the Biyang X-Drive very difficult to resist.
After all, it is durable, compact, and affordable.
The three knobs are conveniently located at the top of the unit, but the selector switch isn't in the easiest place to reach making it rather fiddly.
The tone knob allows users to feed different frequencies through to its ground circuit.
A higher setting will send all high frequencies, and a lower setting will send all lows. The drive knob selects the amount of power being fed to the unit.
This is reflected in the cleanness of your tone. More power will typically result in a dirtier tone.
Users are able to select between bright, warm, and normal for their distortion settings.
Warm tones are built for more midrange frequencies, and bright refers to the higher frequency ranges.
These help you to achieve a variety of tones at the flick of a switch. Alternatively, you can leave it in normal, which will result in a pure input sound.
Pros
Extremely affordable
Three-tone setting
Drive adjustability
Cons
Somewhat tinny sound
Poor quality control
Conclusion
To wrap up our best guitar distortion pedal reviews, we'd like to leave you with our top recommendations. Do you have a specific pedal in mind?
If not, then allow us to help you out.
Firstly, for its higher level of versatility, which makes it great for those who are just starting out, the Donner Multi Guitar Effect Pedal is the perfect choice.
Offering a range of effects, including distortion, makes it a great buy for anyone looking to add something new to their sound.
For those who are purely after a distortion pedal though, you are more than likely going to want to opt for the Bass Big Muff Pi.
This distortion pedal offers fantastic sound clarity, is extremely durable and reliable, and offers great adjustability.
Also read: these are the best multi-effect pedals to get all your fx at once
          Joost Nusselder, the founder of Neaera is a content marketer, dad and loves trying out new equipment with guitar at the heart of his passion, and together with his team, He's been creating in-depth blog articles since 2020 to help loyal readers with recording and guitar tips.
Check me out on Youtube where I try out all of this gear: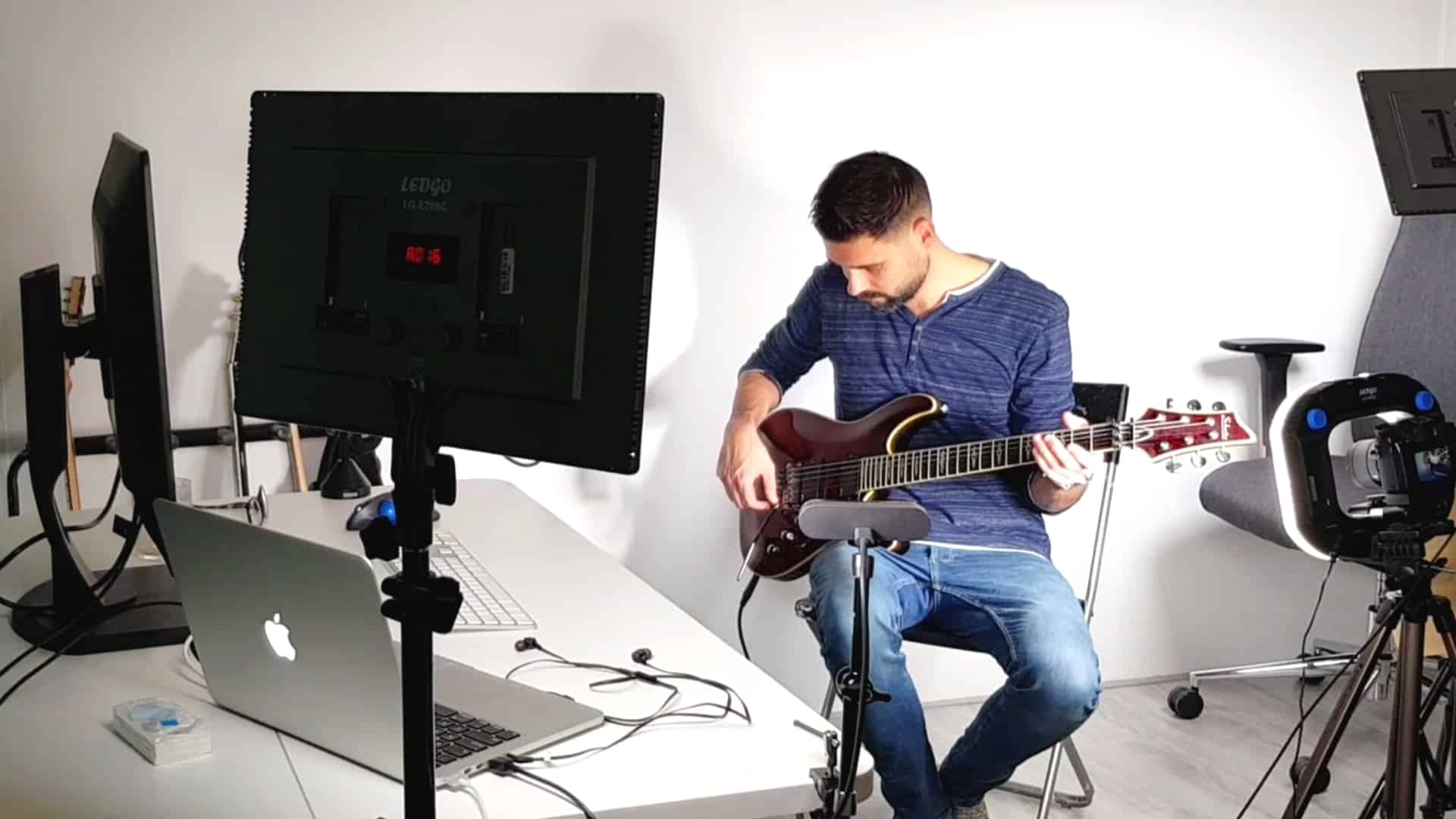 Subscribe